9 Seater Car Hire
The biggest choice of 9 seater minibus hire
With a massive choice from the biggest brands, Enjoy the best way to find the best prices for minibus hire.
Huge choice of vehicles for every budget
Save up to 70% compared to buying on the day
Book online and enjoy massive savings


Finding the best deal for a 9 seater minibus hire
So you're thinking of hiring a nine seater car?
You've come to the right place – book with Enjoy Travel and you can choose a wide range of popular larger hire vehicles from leading manufacturers like Volkswagen, Vauxhall, Ford, Renault and more.
With more of us taking staycations than ever these days, it's the perfect time to hire a nine seater – you can load up gran and gramps in the back alongside your kids while you and your partner sit upfront, and take off on a family reunion tour, holiday with friends in a favourite hotspot, or escape for an away match with your sports team.
Built with safety, comfort and reliability in mind, these types of people-carriers have become perpetually popular in a wide range of markets, from the US to the UK and Europe to Asia and Australia. And because we work with highly-rated car hire brands like Avis, Hertz, Alamo Europcar, Green Motion and more, you can feel confident that you'll always benefit from a brilliant choice of nearly new, immaculately-maintained 9 seaters which are subject to the highest possible standards for hygiene and cleanliness.
Book a bigger vehicle with Enjoy Travel ahead of time to bag an early bird bargain, pick it up at your most convenient location and get moving in style!
9 Seater cars – a history of motoring adventure
Known as minivans in the US, M-segments, MPVs (Multi-Purpose Vehicles) and people carriers and people movers in Europe and elsewhere, 9 seaters usually have a 'two box' body design, or adapted commercial van design, with high roof, sliding doors for rear passengers, high seating in three rows and flat floors.
These handy vehicles have been around for a while – in fact their predecessors can be traced back to at least the 1930s as the streamlined Stout Scarab is often claimed to be the very first of its kind. Other early incarnations include the DKW Schnellaster, introduced in 1949, and the 1956 Fiat 600 Multipla, while the Renault Espace and Dodge Caravan (both unveiled in 1988) heralded the classic body shape which brought these vehicles into the modern era.
Essentially a hybrid of a car and a bus, the 9 seater appeals to families and other large groups – evoking a subtle sense of adventure because in some markets (the US in particular) they're available in the iconic, ruggedly utilitarian Jeep-style 4-wheel-drive silhouette.
When you're hitting the road en famille, this car category is the cream of the crop!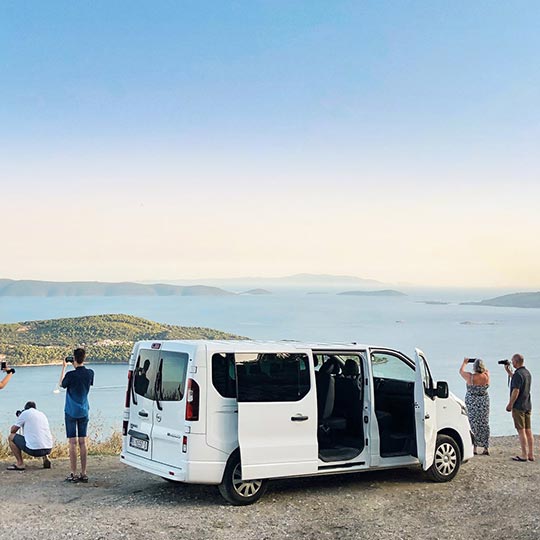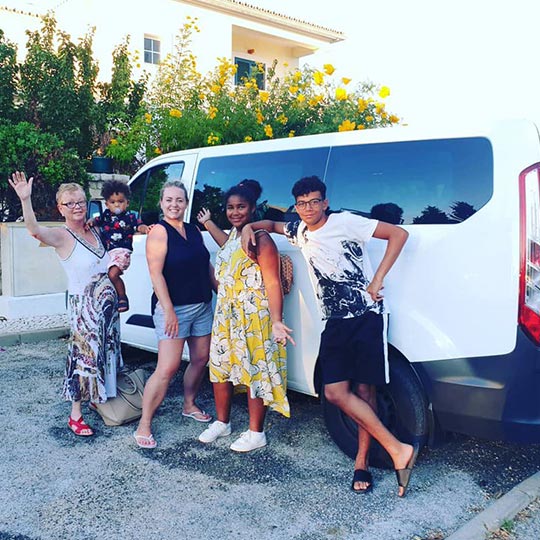 Top 9 seater car manufacturers
Still going strong after all these years, a number of manufacturers produce 9 seater cars in various global markets. Here are just a few highly rated models:
The Renault Trafic is a great choice if you prize low fuel consumption, a comfy and serene drive, awesomely accurate steering, and the propensity to stick rigorously to the road whether it's travelling light or fully-laden. Complete with a cutting-edge infotainment system (ideal for road trip karaoke sessions) plush seats and ample storage, as well as being practical, it's a bit of a looker.
The Ford Tourneo Custom. With a high driving position for a commanding view of the road ahead, agile handling for a large vehicle and a sensor system which makes parking much less of a headache, the Ford Torneo Custom seats 9 in comfort and also has a mighty 1100 litres of storage space in its giant boot.
The Citroen SpaceTourer adds a touch of curvaceous gallic flair to the usual 9 seater shape and its responsive steering makes it easy to handle. Features like parking sensors and touchscreen infotainment enhance its appeal and it's also possible to remove the third row seats if you have a slightly smaller group but would benefit from more space for suitcases, sports gear and outdoor equipment.
The Vauxhall Vivaro Life started life as a highly-rated panel van beloved of tradespeople and commercial fleet managers. But in 2019 this family car version hit the market and became an instant smash hit. Features here include smooth sliding doors, electric door mirrors, cruise control, integrated audio and phone controls and Bluetooth connectivity.
The Volkswagen Transporter is a 9-seater passenger version of the classic VW panel van, and it benefits from the blend of style, reliability and luxury that's become synonymous with this iconic brand. A top pick for taxi firms and airport shuttles as well as families and groups of friends, comfy seats, ice-cool A/C and all the mod cons you can imagine make this a rather classy ride indeed.
The Ford Expedition is a stylish SUV-style 9 seater which is a pleasure to drive with its responsive steering and smooth 6-gear automatic transmission. With plenty of space for 9 full-grown adults and the option to lie the second and third rows flat in order to create a huge storage space, this is a suave, sporty model that's perfectly at home on North American roads (or anywhere else!).
The Chevrolet Suburban is one of the longest vehicles available, at a jaw-dropping 224 inches long and it features an old-school solid rear axle and powerful V8 5.3 liter engine. The 12th generation of Suburbans, this is one of the best-established models in motoring history and swish features include a rearview camera, 8-inch touchscreen, cloth upholstery, onboard Wi-Fi, Bluetooth and rear-wheel drive.
The Nissan NV nine seater is a luxury model with chic tinted windows, curtains and V6 or V8 engine configurations. A popular choice for families, its an efficient and good-looking model that's ideal if you're taking a weekend road trip, travelling cross country to see relatives, or touring between several towns and cities on an extended break.
As you can see, there's a comprehensive range of 9 seater cars available and the choices above merely offer a tasty soupcon of this terrific category. When you want to cruise along in comfort and style, this type of elegant, expansive vehicle really is in a class of its own.
9 seater cars from popular car hire suppliers
At Enjoy Travel, we work with a wide variety of top-rated car hire suppliers worldwide and many of our partners offer excellent choices when it comes to 9 seaters.
If there's a particular car rental supplier you prefer, here's the lowdown on the types of models that might be available:
SIXT rent a car opts for the Ford Tourneo as its flagship 9 seater option – available in manual and automatic transmission versions. If this well-known car hire supplier ticks all the right boxes and you're a Ford fan, this is a match made in heaven.
Thrifty is a good bet if you like the sound of the cool air conditioning, smooth automatic gears and comfy interior of the Nissan NV – plus, this supplier lives up to its name with some excellent deals if you book ahead of time. And if you want to add an additional driver and split the cost with your co-travelers, you can save cash and make your whole trip feel more pleasurable!
Alamo is a household name that's also invested in the 9 seater market and if you like the sound of the Ford Expedition, you can find a great deal on this tough but stylish model in plenty of locations in North American and beyond. Remember that with Enjoy Travel, you can stick with the most economical basic deal offering standard cover or pay a little more for a premium model package with excess protection.
Green Motion is a great car hire choice if you're an eco-conscious customer, because it makes a sterling effort to promote electric and hybrid cars and offset the carbon footprint of its fleet. If you like the sound of a luxury 9 seater model like a Mercedes Vito, this supplier is a great choice, and its customer service is highly rated.
Avis is a car hire company that's familiar to thousands of satisfied customers all around the world. And it's no slouch when it comes to 9 seater hire cars either, with oversize models like the Toyota Hiace available which are priced reasonably, given their expansive passenger capacity.
National is another famous name in the car hire sector that we're very proud to have worked with for several years and its choice of large vehicles includes the classy Chevrolet Suburban, which can seat up to nine passengers in comfort and luxury. If National is your go-to provider and you prefer US car manufacturers, you'll find a fantastic deal through Enjoy Travel.
As you can see, lots of your favourite car hire suppliers have attractive 9 seater models complementing their fleets and by booking online right here, you can unlock bargains you'll struggle to find anywhere else.
Now, you might be wondering what type of road trip really showcases the fabulous functionality and signature style of a larger vehicle. Which is why we've collated a list of legendary people carrier road trips – it's coming up next!
Best 9 seater car road trips
Have you always fancied a road trip adventure in a 9 seater car, you're open-minded about your destination but not sure where to start?
Perhaps you've dreamed about you and your best mate's families rolling through hill and dale, imagined taking relatives abroad around your favourite lakes and mountains or fantasized about cruising with your sports team or social club to an away day in an exciting new destination?
In that case, you're in luck, because we've locked ourselves away in a cupboard for a month (okay, a day or so) to find the best nine seater road trips from around the world. Strap on your seatbelt, check your mirrors, signal your maneuver and let's roll.
The Garden Route, South Africa
A sublime stretch of coast between Mossel Bay and Storms River Mouth, perhaps no road showcases South Africa's preternatural beauty like The Garden Route. With dramatic mountains and verdant vineyards on one side and rugged promontories and soft sandy beaches on the other, this is a road that large cars were created to cruise along!
San Juan Skyway, USA
If you fancy reaching new heights in your 9 seater vehicle, Colorado's San Juan Skyway definitely fits the bill. A 380km drive through the heart of the state's San Juan Mountains, you'll coast past pounding waterfalls and crystal clear streams, with snow covering your surroundings in a beautiful pristine blanket if you're travelling in winter and a fiery blaze of oranges and reds as the leaves turn in autumn. If you adore spectacular natural scenery, you'll see plenty of it from the panoramic windows of your minibus.
Cabot Trail, Canada
A terrific 298km track that traces its way across Cape Breton Island in Nova Scotia, the Cabot Trail spirits you through the magical Cape Breton Highlands National Park, where you can see nature in all its glory via wildlife like black bears, moose, and bald eagles. There's a plethora of pretty villages along the way – be sure to make a pitstop and if you're of French or Scottish extraction, get ready for a particularly warm welcome.
Ring Road, Iceland
As far as scenery goes, it doesn't get more otherworldly than Iceland's stark volcanic peaks topped with fresh snow, bubbling lava fields, dramatic fjords, and electric blue thermal pools. This wide open landscape is ideal for exploring by car and the 1,339km N1 ring road takes you right around the island. Be sure to build in a few stops along the way to stay safe and keep your wits about you on the road – it's a pleasure trip rather than an endurance race!
Great Ocean Road, Australia
Running between Victoria's Torquay and Warrnambool for 285km, the Great Ocean Road is one of the world's most atmospheric and the highlight is the 'Shipwreck Coast' where you can gaze out in wonder at the Twelve Apostles sea stacks. For a manageable road trip (by Australian standards) this really takes some beating and there are stunning sights around every corner that you'll never forget. Drive safely and pack a picnic so that you can pull up your 9 seater at the most rewarding spots to relax and catch the moments.
Skeleton Coast, Namibia
In this part of the world, a minivan-style vehicle is often called a 'kombi' and it's a great choice for exploring the weird and wonderful Skeleton Coast, an isolated stretch of coastline peppered with the abandoned hulls of many ships which have wrecked here over several centuries and stick out of the sand in various states of disrepair. The terrain also includes granite mountains and volcanic lava ridges, while you shouldn't be surprised if you spot impressive wildlife like rare black rhinos, springboks and elephants. This is a drive on the wild side with a difference.
Pan-American Highway
Fancy taking off on a long road trip? Like, for a year or so? Ask your favourite car hire provider about their long-term rental deals and take off on the adventure of a lifetime along the Pan-American Highway. The route is 48,000km (including several stops) and stretches from Alaska at the top of North America right down to the most southerly tip of Argentina in the south. It's the longest road trip in the world and is only interrupted by Panama's subtropical Darien Gap. If you want to pass through swamps, mountains, farmland, tundra, rainforests, beaches and every type of ecosystem under the sun, your wish will come true in life-enhancing style on this road trip. If you're intending to take your kids with you, check that it's ok to keep them out of school for a while – their Pan-American Highway scrapbooks will make the best 'show and tell' exhibits ever when they return!
So there you have it – a comprehensive, no stone left unturned, guide to 9 seater cars – who would have thought when we started our journey that we would cover the evolution of people carriers, the tech specs and styles of the world's most popular models, the car rental companies that provide them and the roads which they were invented to explore?
Let us know if you need more information about 9 seaters or any other type of car – as you know, at Enjoy Travel, we always go above and beyond to make sure that valued customers like you are taken care of.
When you want to roll out safely with your squad, a 9 seater from Enjoy Travel is the discerning driver's choice!
Top tips for hiring a 9-seater vehicle
The most popular 9-seater minibus sold on EnjoyTravel.com is a Mercedes Vivaro, follwed by a Ford Tourneo, VW Transporter and then a Renault Trafic.
Top tips for 9-seater car hire.
We've put together some of our website stats to give you a flavour for the different options and places.
Prices for 9-seater mini-bus hire.
Opel/Vauxhall Vivaro averages £46.14 per day, the cheapest is £12.23
Ford Tourneo is on average £35.22, the cheapest per day is £12.84
Volkswagen Transporter averages at £42.81 a day with the cheapest £13.80
Renault Trafic is on average £27.93 a day with the cheapest at £12.99
Average prices by country for 9-seater mini-bus hire.
Germany £43.07 per day
France £43.13 per day
Portugal £31.02 per day
Spain £40.63 per day
Greece £36.21 per day
Poland £28.75 per day
Croatia £60.31 per day
United Kingdom £26.39 per day
Turkey £36.37 per day
Italy £72.53 per day
Got a Question? Chat with our UK support team
Online chat help is open 08:30am to 17:00 weekdays. Email: customersupport@enjoycarhire.com
COVID CLEAN & SAFE PLEDGE
FAQs about minibus hire
Most frequently asked questions about hiring a minibus
The majority of the major brands in car hire across Europe, North America and Australasia have 9-seater options.
The price of 9-seater minibus hire depends on the country and time of year, the overall average on Enjoy Travel is £41.61 per day.
The most popular is a Mercedes Vivaro, follwed by a Ford Tourneo, VW Transporter and then a Renault Trafic
The majority of rental companies will offer 9-seat vehicles in the majority of countries, such as SIXT, Hertz, Avis, Green Motion, Budget, Alamo, Enterprise.
Normally your standard driving license for a normal car is fine for a 9-seater vehicle, you don't need any special kind of license.
Other popular articles on minibus hire