Ayia Napa Car Hire
Find the best deals in Ayia Napa
With a massive choice from the biggest brands, Enjoy the best way to find the best prices for car hire in Ayia Napa.
Huge choice of cars to suit every budget
Save up to 70% compared to buying on the day
10 years experience in car hire


Compare Car Hire in Ayia Napa
Ayia Napa lies in the eastern Mediterranean Sea and is the third largest island there after Sicily and Sardinia. Its maximum length is 225 km east to west and 100 km north to south. It's 65 km south of Turkey, 100 km west of Syria, and 770 km southeast of mainland Greece.
Originally a fishing and farming town, Ayia Napa is now a tourist resort at the far eastern end of Cyprus' southern coast, near Cape Greco. Ayia' means 'holy' in Greek, while 'Napa' is an archaic term for 'wooded valley' (it was previously surrounded by forest). The 12th Century monastery from which the name comes is in a central square that is now the clubbing centre of the town, something Ayia Napa became famous for around the year 2000 with the rise in popularity of two-step Garage music. The resort has 27 beaches, of which 14 are Blue Flag accredited (signalling a common standard of cleanliness, safety, etc.) with the most famous being Nissi beach.
Cyprus has a relatively cheap standard of living, which is reflected in the great car hire deals available. Enjoy will find the best prices for you, stress-free ‐ a Kia Picanto or similar mini-size car starts at €5.19 a day in off-peak season! An economy-class Suzuki Swift (seats 5) starts from €6 a day, while a spacious, standard-size Ford Mondeo starts from just €12.50 a day! Pre-book your hire car online with Enjoy so you can explore Ayia Napa and Cyprus in affordable comfort ‐ but first, here's a bit more on this Cypriot haven.
About Ayia Napa:

Ayia Napa wasn't a settlement proper until 1790, when Nikolaos Kemitzis from Thessaloniki in Greece decided to live there after disagreements with Ottoman officials (who ruled Cyprus at the time) forced him to move. Although Cyprus gained independence from Britain in 1960, in 1974 Turkish forces occupied the northern part of the island as a response to a Greek coup, leading to decades of distrust between two great rivals (Greece and Turkey) and the annexation of the north by the Turks, a division which remains to this day.

Since the 1990s Ayia Napa has become a major tourist resort and is a clubbing hotspot, with bars and clubs all over the city. In summer, young hedonists from all over Europe and beyond come to party hard (although the city has tried to focus on more family-friendly tourism, especially in the last 10 years). If you're looking for a quiet holiday then you may be better off in nearby resort Protaras, as Ayia Napa is still bouncing!

Airports and Access: Because the part of Nicosia (the capital of both Greek and Turkish Cyprus and the world's only divided capital city) with the airport was appropriated by the Turks, the main airport in Cyprus is Larnaca International Airport (LCA), 4 km to the southwest of Larnaca, which is only 40 minutes east of Ayia Napa.
Driving in Ayia Napa: Driving in Cyprus is similar to driving in the UK (with a lot more sun, obviously) ̶‐ you drive on the left, cars are right-hand drive and there's the same street furniture (lights, crossings etc.) that you see in the UK. Similarly, main roads here begin with an 'A' prefix, side roads begin with a 'B' and roads are generally in good condition. Some of the more mountainous B roads might not be well surfaced though, which brings us to another point ‐ if you want to explore the wilderness, consider a 4x4 for your hire car because Cyprus is full of hidden gems that are off the beaten track. Whatever type of vehicle you choose, a rental car is definitely the best way to navigate Cyprus independently, and there's ample exciting driving to fantastic destinations on this Mediterranean jewel! Here are a few of our favourite drives:

The coastal road between Ayia Napa and Protaras is a superb drive that takes in Cape Greco ‐ the south eastern-most tip of Europe, and the National Park here is a great place to stop. While the length of this drive might only be 13 km, taking around 20 minutes, you drive through lots of majestic scenery. At the south end of the National Park is the stunning Konnos Bay and just a little further up the coast is charming Fig Tree Bay. In Ayia Napa itself you'll find the Medieval Monastery, which is of significant historical interest. In Protaras, be sure to visit the excavated Hellenistic tombs above the bay and to the northwest, the limestone Church of Profitis Ilias, which sits perched high on a rock.

Famagusta (also known as Gazimağusa) and Salamis showcase some of Cyprus' finest historical sites. And at just 18.6 km from Ayia Napa, a trip to Famagusta can easily be combined with an added jaunt north to Salamis. Enjoy highlights such as the Monastery of St. Barabas, the Gothic centre of Famagusta, or the 'ghost town' section of Famagusta called Varosha. Famagusta also has well-preserved Venetian Walls from the 15th and 16th centuries and Lala Mustafa Pasha Mosque, previously a Gothic cathedral, which dates from the 14th century. Salamis was an ancient city-state which legend says was founded by the nephew of Ajax, the Greek warrior of the Trojan wars.

Two hours' drive from Ayia Napa is Mount Olympos (not to be confused with Mount Olympus, on mainland Greece). Most of this drive takes you on a stunning coastal route on the A3, taking in towns such as Limassol and Larnaca. Germasogeia is a suburb of Limassol which has a number of attractions to break up your journey, such as the 12th Century Agia Christina Church and the Lighthouse Beach (one of the area's finest). However, if you want more rugged wilderness beauty and fewer cars, take one of the 'longer' routes (only by about 30 minutes) ‐ the most scenic route is arguably the Gazimağusa-Lefkoşa Anayolu stretch on the B9 which goes north to northwest into the interior (through the majestic Paphos forest) and then turns south to Mount Olympos.

The best way to experience Cyprus' most north-easterly Karpaz peninsula is to head for Rizokarpaso (in Greek, known as Dipkarpaz in Turkish) via the Karpaz Anayolu. This peninsula is renowned for its fertile soil– carob, cotton, tobacco and grain all grow well, while this part of Cyprus is known for being the most unspoilt region. The Karpaz National Park has some of the most pristine beaches on Cyprus. It's also home to the Karpass Donkey, a breed exclusive to Cyprus, and some remains of the earliest settlements on the island. Consider returning via the Karpaz Anayolu and A3, and don't forget your passports because Nicosia is still divided into Turkish and Greek sectors ‐ once you've shown the Turkish guards your passport once you should be able to go between either sector freely.

Famous Ayia Napa: Cyprus is known as 'the Jewel of the Mediterranean' and legendary birthplace of Aphrodite, the Greek Goddess of Love and Beauty. Other notable persons include Barnabas, an early Christian and Apostle who, with St. Paul, spread early Christianity, and Zeno of Citium, the founder of the Stoic school of philosophy.
Guide to Ayia Napa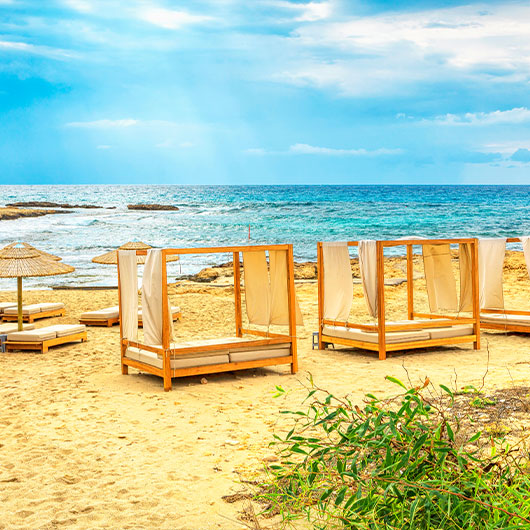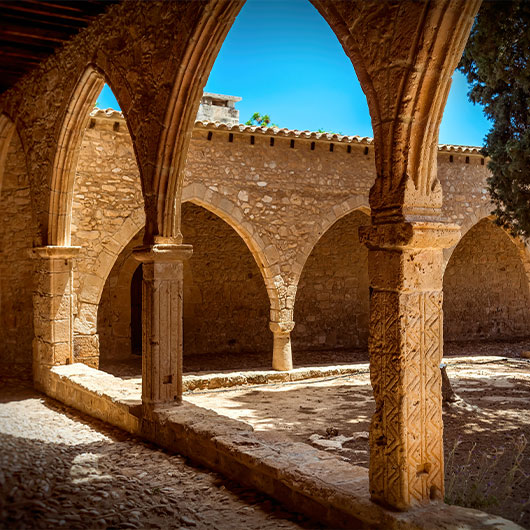 Two Countries, One Island
Although Cyprus remains divided between Turkey and Cyprus, most natives self-identify as Cypriots rather than Greek or Turkish. Ayia Napa represents the island internationally as a hard-partying hub ̶ a cosmopolitan town with many nationalities, where most of the tourists who come to party come from the UK, Russia and Romania. Recently it has also attracted tourists from Arab countries and Israel.
Past and Present
Some consider Ayia Napa to be a complete holiday destination, with activities not just for clubbers but for the whole family, and it certainly has a compact yet eclectic mix of ancient and modern. Even its culture spans millennia, as seen in Chalcolithic art from 10,000 years ago, archaeological sites like the Makronissos Tombs, Ayia Thekla and Ayia Napa Monastery. Add to this historical brew the bold nightlife in Ayia Napa and tourist facilities (which are excellent) and you have an inspiring and charming holiday destination full of fascinating contradictions.
Sports and Pastimes
Although famous for living large like Craig David, Ayia Napa has plenty of non-clubbing activities ̶ within Ayia Napa itself you can find a gold driving range, football fields, mini-golf courses, tennis courts, aquariums and a sea museum. There's a great Waterpark on the outskirts of town, right next to a Go-Kart track and on most beaches, you can hire jet-skis, speedboats, water skiing, paragliding and windsurfing equipment and instructors.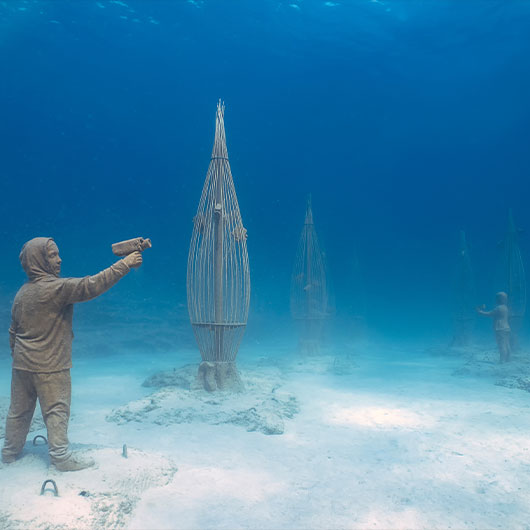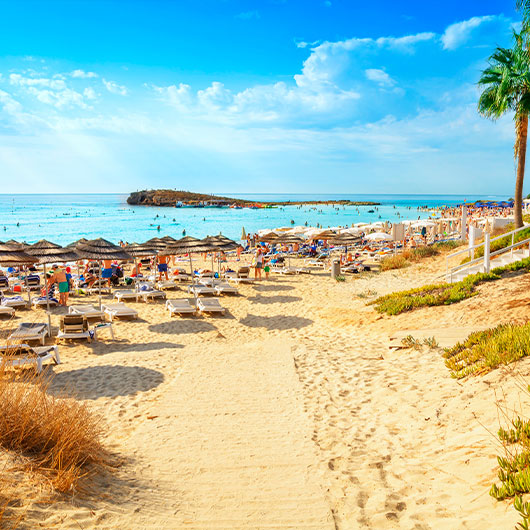 What to do in Ayia Napa?
Ayia Napa is a holiday destination that has a lot more than just nightlife. And because Cyprus is small, most places are reachable in a few hours.
Historical attractions
Ayia Napa, like the rest of Cyprus, is filled with history (sometimes well hidden behind its more touristy reputation). A good place to start is the Thalassa Museum, a marine/maritime museum. It's home to replicas of ancient boats, antique maps and anchors, fossils, religious effigies used for luck by sailors, and an exact replica of the famous Kyrenia ship (among others). Ayia Napa has chapels, churches and monasteries which are woven into the fabric of the island and people.
Watersports
Of course Cyprus has a massive variety of watersports for all ages and aptitudes – from banana boats or doughnut rings to pedaloes, parasailing and flyboarding, watersports here have cemented Ayia Napa's destination for all things aqua-based!
Party time!
Ayia Napa is famed for partying and hedonism, a trend which really took off in the late 90s and early noughties with the rise of UK Garage. There are a number of clubs, especially heading north from the marina towards the top end of the town's central tourist area and then west to Nissi.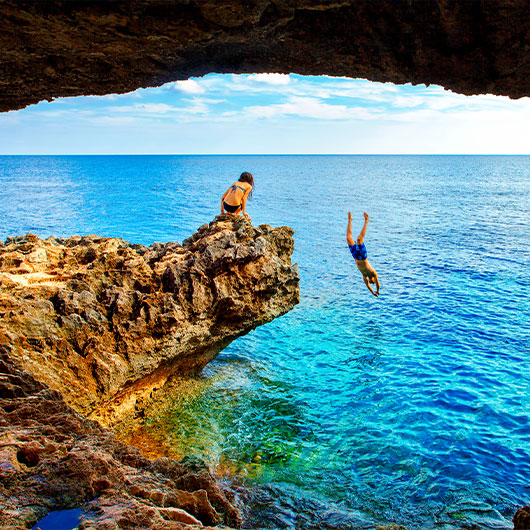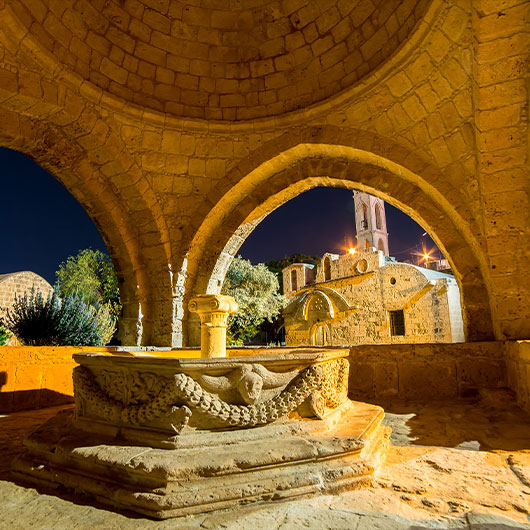 Eating out in Ayia Napa
Ayia Napa has amazing Greek and Cypriot food (among others!) to match any palette or budget. Here are a few of Ayia Napa' best restaurants and cafes:
Michelin-starred restaurants?
Unfortunately Cyprus restaurants have yet to receive the coveted Michelin guide status. But luckily there's ample fine dining which is of a similarly high standard ̶ top of the list is Sage in Kryou Nerou. Specializing in international cuisine, the seafood menu in particular is outstanding, as are their duck and steak dishes.
On the top floor of the Grecian Sands Hotel (also in Kryou Nerou) is the Roof Burger Bar ̶ flame-grilled burgers cooked to perfection are the focus here, although there's an extensive menu that's filled with alternatives. Many come for the view, which is spectacular, but you can also expect pitch-perfect service in a comfortable environment.
Family and budget-friendly
One of Ayia Napa's top family-friendly eateries is Dione Restaurant. Located near Nissi Beach, there's a kids' playground, clean facilities, and well-priced tasty food like calamari and whole roasted vegetables. They also have a wide range of cocktails and mocktails!
For budget-friendly eateries you can't go wrong with some of Cyprus' pub grub. Try Ocean Basket, which serves seafood and sushi in a modern vibe, or Sawadee Thai Food in Kassandrous (the main tourist area in central Ayia Napa).
Middle Eastern Flavours
The North African/Middle Eastern influence is strong in Cypriot cuisine and look no further than Zaatar Food Arts on Nissi Avenue for the finest in Lebanese and Syrian food and much more.
Transport in Ayia Napa
Airports
The main airport in Cyprus is Larnaca International Airport (LCA), 4 km to the southwest of Larnaca, which is itself 40 minutes east of Ayia Napa. At the airport, Enjoy partners with trusted global brands like Avis, Hertz, Sixt, Enterprise, Thrifty and Dollar (and others) as well as established local companies.
Buses and Trains
There are several bus routes serving Ayia Napa, but the most frequent service is the 101/102 route which goes from Waterworld Waterpark at the western edge of Ayia Napa, along Nissi Avenue into the town centre before continuing on to Cape Greco, Protaras, and Pernera and terminating at Paralimni village. The service runs up to every 20 minutes from 7 AM until 11 PM. Tickets cost €1.50 during the day and €2.50 at night. You can also get an all-day pass for €5 and a 7-day pass for €20.
There are other services from Ayia Napa to the local villages, although they are less frequent. There are no trains in Cyprus.
Driving Tips
Drive on the left-hand side of the road in Ayia Napa. The speed limit on the motorway is 100 km/h (60 mph) with a minimum of 65 km/h (40 mph). On all other roads the speed limit is 80 km/h (50 mph), unless otherwise indicated. In built-up areas the speed limit is 50 km/h unless otherwise indicated. Furthermore:
The use of mobile phones without a hands-free device is strictly prohibited and seat belts are compulsory.
Children under the age of 5 must not under any circumstances sit in the front passenger seat and children from 5 - 10 years can sit in the front passenger seat only if an appropriate child's seatbelt has been fitted.
Drink-driving limits are lower (i.e. you're allowed less in your system) than elsewhere in Europe and the UK ̶ 50 milligrams of alcohol per 100 millilitres of blood.
If possible, avoid driving west in the late afternoon, as a glare of the setting sun can be disturbing and potentially blinding ̶ wear sunglasses to shield your eyes from the bright Mediterranean sky.
Got a Question? Chat with our UK support team
Online chat help is open 08:30am to 17:00 weekdays. Email: customersupport@enjoycarhire.com
COVID CLEAN & SAFE PLEDGE
FAQs about car hire in Ayia Napa
Most frequently asked questions about hiring a car in Ayia Napa
Hiring a Kia Picanto or similar mini-size car starts at €5.19 a day in off-peak season! An economy-class Suzuki Swift (seats 5) starts from €6 a day.
You can hire a mini-size car for as little as €5 a day in Ayia Napa when you pre-book.
The minimum age to hire a car in Cyprus is 21, and the driver must have held their license for over three years. Drivers under 25 may also be liable for a surcharge.
There shouldn't be – excess-free packages come as standard with most car hire companies, as do road-side assistance, theft protection, and collision damage waiver.
Yes – it's common to add extra drivers, provided they have a valid license and an additional daily fee is paid.
As you probably won't drive much in Ayia Napa town, consider something like a rugged Kia Stonic SUV so you have the option of going off the beaten track.
In the unlikely event you have a serious accident in Ayia Napa, call 112 immediately for emergency services.
The cost of life and staying in Ayia Napa is slightly lower than the average city. In general hotels are not as expensive as holiday rentals. Additionally luxury holiday rentals are more expensive in Ayia Napa because of high property costs.
Renting a car in Ayia Napa can certainly be worth it if you're planning to move around and explore a lot. If you're travelling with kids it's even more advisable.
Ayia Napa has a solid transportation network consisting of taxis and trains. If you don't own a vehicle, then buses are the next best means of transport around Ayia Napa.
Ayia Napa generally averages the highest priced car hire in Cyprus with rentals going for £24 per day on average.
Short-term visitors and travellers can ride their vehicle using their UK driving license in Cyprus. Driving license rules are not to be changed at least until 31 December 2020.
The best way to start your trip in Ayia Napa is to visit the Konnos Bay and from there explore the rest of the attractions such as Blue Lagoon, Makronissos Beach, Nissi Beach and the Sea Caves.
In the unlikely event you have a serious accident in Ayia Napa, call 112 immediately for emergency services.
High season in Ayia Napa is July. However, clubs and events remain open between the months of June and September. Therefore, if you're looking for economic options, opting for a trip in June or September would be ideal.
Explore popular places in Cyprus