Toronto Car Rental
Find the best deals in Toronto
Choose from the biggest brands, compare sedans, convertibles, sports cars, SUVs, mini-vans, coupes, hatchbacks and more.
Search, Compare and Reserve online
Over 150 Suppliers across 140 Countries
Huge choice of cars to suit every budget
Compare Car rental in Toronto
The capital city of Ontario, Toronto has a population approaching 3 million in the city proper and 6.5 million in the Greater Toronto Area, making it Canada's biggest city and the fourth-largest in North America. Part of the Golden Horseshoe urban area that skirts Lake Ontario, this is a stunning city where stiletto skyscrapers contrast with calm waters, and ancient ravines and forests complement cosmopolitan arts and culture. In other words, it's a wonderful spot for a Canadian staycation!
Toronto is nothing if not diverse – you'll find fine art and haute cuisine here, beautiful beaches and eclectic nightlife. There's also an efficient urban transport system which can whisk you between bars, galleries, museums, and its hip waterfront development area – as well as ample amazing scenery in its surroundings to explore by car.
The main airport here is Toronto Pearson International (YYZ) and you can fly here from numerous domestic destinations – it's a great place to pick up your rental car but other convenient pickup locations across the city are also available. Renting a car in Toronto is child's play with Enjoy Travel and if you book ahead of time there are plenty of great prices available. For instance, you can rent an economy car like a Toyota Yaris for C$ 47.31 a day here if you book in advance, a sleek Hyundai Sonata saloon is C$ 52.59 a day and a Mazda 3 SUV is just C$63.27 a day. We've got a wide selection of vehicles to suit any type of trip and traveler and we only work with trusted car rental partners – so peace of mind is standard with Enjoy Travel Toronto car rental!
Guide to Toronto
About Toronto
A bustling, modern city with a serene lakeside setting, Toronto's lively city center radiated outwards towards the suburbs, townships and industrial areas that comprise the Greater Toronto Area (GTA) – an expansive megalopolis covering 100 square km. Forward-thinking city administrations and investors have improved everything from the transit system to the waterfront and cultural provision over the past few decades, sealing the city's reputation as the heart of Anglophone Canada and blessing its inhabitants with one of the best standards of living anywhere in North America.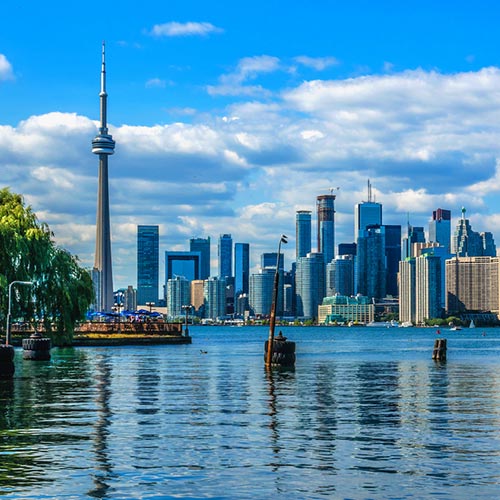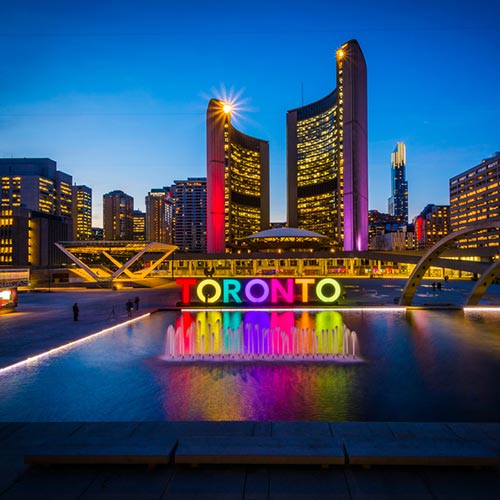 Arts & Culture
Toronto's culture is brough alive by its multicultural inhabitants, who influence its civic festivals, city customs, and delicious cuisine. But there are also a number of major attractions for culture vultures visiting at any time of year, such as the impressive Art Gallery of Ontario, the outdoor Shakespeare in High Park event that runs every summer and the packed program of the Elgin & Winter Garden Theatre. At numerous venues around the city, you'll find live music in endless genres, spoken word poetry sessions, comedy revues and more – there's something to suit every taste and new delights to discover if you're open-minded.
Green spaces
Winters get pretty chilly in Toronto, so city-dwellers naturally like to make the most of the pleasant spring and summer weather with a wide range of outdoor activities. The Toronto Islands are idyllic spots for stand up paddle boarding, canoeing and wild swimming, while Lake Ontario's shoreside pathways and beaches are beautiful. In the city, Kew Gardens and High Park are serene green spaces with lots of soft grass to play and picnic on, while the east end cycle path network is ideal when you want to get on your bike. Toronto looks preternaturally pretty in the snow too, so if you're visiting in winter, you can enjoy activities like outdoor skating or (if conditions permit) head out of the city to superb sites like Mono Cliffs Provincial Park, Rattlesnake Point and Kawartha Highlands Provincial Park.
Things to do in Toronto
Nightlife
Toronto's Entertainment District is located downtown and runs from the lakeshore in the south to Queen Street West in the north, with Spadina Avenue and University Avenue bordering it to the west and east. If you want to party, hot-foot it to this area for the city's busiest theatres, restaurants, bars and hotels. You'll find everything from chic cocktail bars to good old-fashioned after work bars here, and establishments like Flynn's of Temple Bar, Pai, and N'Awlins are legendary.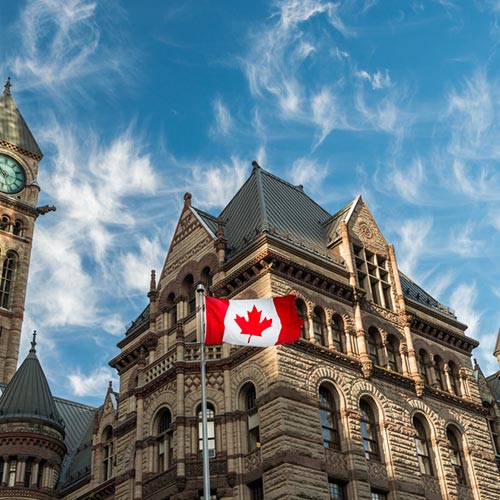 Festivals
Roll up in Toronto at practically any time of year and you can find yourself swept up in the energy and enthusiasm of a major festival. For instance, the BIG on Bloor Festival is held in July and typically welcomes over 90,000 visitors to participate in multidisciplinary arts projects like quilt making, Japanese lantern making and large-scale sculptures. Alternatively, the Toronto Caribbean Carnival normally attracts over 1 million visitors and features colorful costumes, soulful, vibrant music, and spicy cuisine courtesy of the city's Caribbean community.
Lakefront & Toronto Islands
Toronto's Lakefront is one of the world's longest and stretches for 46km from Etobicoke Creek in the west to the Rouge River in the east, and there's so much to do here that it constitutes a vacation in itself! At the Waterfront Artisan Market (which runs June to October) you can enjoy the best seasonal food and crafts from over 50 authentic local vendors, boat cruises on the lake are perpetually popular and the Music Garden is a unique horticultural space which is landscaped with features that mimic Bach's 'Suite No.1 in G Major for Unaccompanied Cello'. Meanwhile, Toronto Islands are another top-notch attraction and here at Hanlan's on the archipelago's most westerly point you can bathe in your birthday suit at the clothing optional beach (if that floats your boat!), visit the Gibraltar Point Lighthouse, which is one of the city's oldest buildings (built in 1908), and parade around Centre Island's lush greenery on a comfy tandem bike.
Shopping & Eating
Restaurants
If you're a foodie, you'll be in your element in Toronto. Choose Actinolite if you want Canadian cuisine crafted from the freshest seasonal ingredients, or Bar Raval for possibly the best tapas in the city. Alternatively, Alo serves awesome French-Canadian haute cuisine, Café Boulud is brilliant for high-end traditional French dishes and Scaramouche remixes classic French dishes in endlessly inventive ways.
Craft beer bars
Toronto has a thriving craft beer scene and there's no shortage of trendy venues where you can sample refreshing, hoppy concoctions. In the west end, Rainhard Brewery has a great tasting room and often hosts live music, while at Shacklands Brewing Co. you'll find Belgian-style beers in cool, retro surroundings. Honorable mentions also go to the People's Pint Brewing Company and Indie Ale House.
Shopping malls
There are shopping malls aplenty in Toronto and each has its particular charms. Yorkdale Shopping Centre is home to favorites like Oak + Fort, Canada Goose and AllSaints, while the CF Fairview Mall at North York sells household appliances, toys, books, fashion, and alcohol. Alternatively, Pacific Mall in Markham is the largest Chinese indoor market in North America and sells unusual gifts and delicious food, while the gigantic Square One Shopping Centre in Mississauga has big name brands, designer goods and independent boutiques.
Transport in Toronto
Airports
Toronto Pearson (YYZ) is the main airport serving the city and it's 23 km northwest of downtown Toronto. If you're flying in from elsewhere in Canada, arranging your rental car pick up here is simple.
Buses, streetcars & subway
Toronto's mass transit system comprises a subway, streetcars, and buses. It's been operating since way back in 1849 and covers 1200km of routes. There are 150 bus routes taking you practically anywhere city-wide, and the streetcar system is the largest anywhere in the Americas. This is an inclusive transit system too – the Wheel-Trans service for passengers with mobility issues has a fleet of minibuses ferrying passengers city-wide.
Driving tips
Toronto's streets are well designed and quite simple to navigate, with the Gardiner Expressway connecting the major Waterfront districts. Pay & Display parking in the city center is limited but there are several parking lots. Highway 412 in Whitby is a toll road, as is Highway 407 from Burlington to Pickering.
Got a Question? Chat with our online support team
Online chat help is open 8:30am to 5:00pm weekdays. Email: [email protected]
FAQs about car rental in Toronto
Most frequently asked questions about renting a car in Toronto
The average car rental price for Toronto is $20.16 per day for a small, economy car. A compact car like a Toyota Corolla costs around $50 a day in Toronto, and an intermediate vehicle like a Ki Forte is around $65 a day.
The cleaning and safety policies of various car hire partners will vary in terms of the fine details. However, when you book through Enjoy Travel you benefit from our Covid clean and safety pledge – we only work with partners that adhere to the most stringent policies and procedures.
Absolutely. But it's better to book your YYZ airport car hire online beforehand.
Check with your provider, but many offer free cancellation up to 48 hours prior to the arranged time.
This depends on the makeup of your group and your travel intentions. If you're traveling in a large family group, a minibus is ideal, but a small car is fine for solo travelers and couples and an SUV feels robust enough to cope with road trips off the beaten track.
Alamo and Enterprise are both car rental agencies that are frequently chosen in Toronto, and you will be able to find both of them at the car rental counters in Toronto Pearson International Airport.
In general, Canada is a very expensive country and Toronto being the capital is considered quiete expensive. If you are planning a visit, keep in mind that on average while traveling there you'll spend $221 per day including accommodation.
If you don't wish to miss anything or waste time with public transport trajectories then renting a car in Toronto is advisable, especially if you're planning excursions outside of the city.
In Canada, you drive on the right, as in most of the world. Although due to its orography and the presence of wild animals, you will find signs that perhaps you have never seen before.
One of your essential things to see in Toronto is surely the Niagara Falls. Less than two hours by car from the city, you will see the brutal fall of an average of 3,000 tons of water per second from 64 meters high!
The best months for good weather in Toronto are May, June, July, August and September. On average, the warmest months are July and August. The coldest months are January and February.
For small cars the budget friendly options begin at $149 for a week, which means more or less $21 a day.
The cheapest offers allow you to rent a car for a whole month for $983, or $32 per day. As mentioned earlier, this depends on the season you book and the car type.
The average price of a litre of fuel in Toronto can vary between $1.219 and $1.35.
Explore popular places in the Canada