Canada Car rental
Find the best deals in Canada
Choose from the biggest brands, compare sedans, convertibles, sports cars, SUVs, mini-vans, coupes, hatchbacks and more.
Search, Compare and Reserve online
Over 150 Suppliers across 140 Countries
Huge choice of cars to suit every budget
Compare Car rental in Canada
Even the proudest Canadian can sometimes do with a few little reminders of just how special this first-class North American nation really is. The world's second-largest nation feels like an entire continent rolled into one – with a wild range of landscapes that veer from verdant ancient forests to cloud-piercing mountains and serene lakes to buzzing, cosmopolitan cities. Across its six time zones you can scale snow-capped peaks, sunbathe on beautiful beaches, wander through otherworldly rainforests, and relax in laid-back, liberal cities.
The natural attractions of the Bruce Peninsula and Nova Scotia blend beautifully with magnificent metropolises like Vancouver, Toronto and Montreal, and rich Indigenous cultures are joined by incomers from European nations like France and Scotland as well as countries all across Asia and beyond. Canadian culture is also warm and welcoming – whichever part of the nation you come from, a strong civic identity means you can feel at home in other parts of the nation and it's a magnet for international visitors too.
If you're planning a Canadian staycation for the first time in years, you might need to rent a car that meets the needs of your travel group and the demands of your itinerary better than your regular ride. And Canada car rental is simple with Enjoy Travel, with countless vehicles from a range of providers available in a click and a reassuring cleanliness pledge the covers our entire fleet. Book your Canada car rental ahead of time with us and you can grab a great deal. For instance, an economy car like a Toyota Yaris costs just $19.70 a day in Toronto, a Nissan Rogue is on average $18 a day in Vancouver and a compact Kia Rio costs $20 a day in Calgary on average. Rent a car in Canada with Enjoy Travel and Canada awaits in all its glory.
Guide to Canada
About Canada
Canada has a whole lot going for it. For starters, its population of around 37 million has a lot more space to move around than its famous neighbor to the south (not to mention better scenery – but we're biased!). As you know, the capital is Ottawa, but major cities include Calgary, Edmonton, Vancouver, Toronto and Montreal – each of which has its distinct charms. The two main languages are English and French, it's divided into three territories and 10 provinces, and it has the world's longest coastline (202,000 km). The name Canada is derived from the St Lawrence Iroquoian word 'Kanata', which means 'settlement'. As well as magnificent mountains like the Rockies, there are over 30,000 lakes here and it's a sports-mad nation which has hosted one summer Olympics and two Winter Olympics. If you're planning a Canadian staycation by car, then you're in good company – a recent Ipsos poll showed that 83% of Canadians agree that there's 'lots to explore' and 48% are ready to travel if they can avoid flying.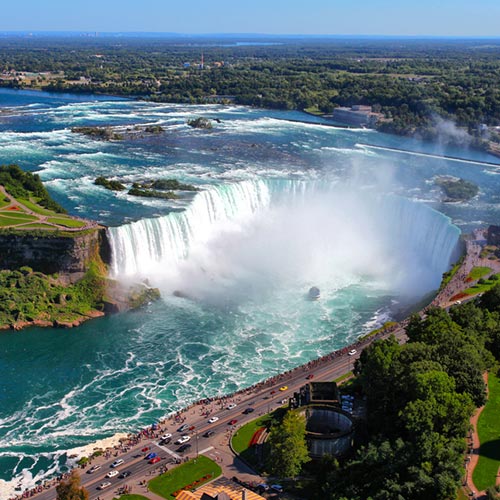 History & culture
The forefathers of Canada's First Nation and Inuit peoples first entered the territory across the Bering Straits from northern Asia and the first European to reach these shores was Viking Bjarni Herjolfsson (AD 976), an event which catalyzed the first European settlement at Newfoundland. However, this colony was abandoned, and it was French navigator, soldier and explorer Samuel de Champlain who established the first permanent European community at Port Royal in Nova Scotia in 1604, followed by Quebec City in 1608. Meanwhile, Englishman Henry Hudson discovered (and laid claim to) the Hudson Bay in 1610, with his Hudson Bay Company amassing great power and influence in the space of a few decades. The Dominion of Canada was formed in 1867 and this new entity had stronger bonds with the UK than the US, and the nation's population doubled from the post-war era to the early 21st Century thanks to an influx of immigrants from all over the world. Unlike the US, where immigrants are encouraged to mix their home nation identities into a melting pot, immigrants to Canada were advised that the salad bowl was best – preserving their own cultures as part of a greater whole. The strongest remaining cultures are arguably those of the Francophone population of Quebec and the indigenous Inuit, who live in the nation's isolated north.
City & country
One of Canada's main attractions is its unique blend of cosmopolitan cities and stunning countryside (much of it protected in vast and verdant national parks). Toronto is the nation's largest city and it's full of iconic attractions like the CN Tower, Casa Lomo and Toronto Island, complemented by cultural attractions like the Royal Ontario Museum and Art Gallery of Ontario. Alternatively, Quebec City's cobbled streets, retro-European architecture and horse-drawn carriages will make you feel like you've stepped back in time – this French-speaking city on the Saint Lawrence River has an old-world charm all of its own. Meanwhile, Vancouver's sublime setting sandwiched between mountains to the north and the Pacific Ocean to the west enhance its reputation as Canada's most gorgeous city and it has much to recommend it too – from the vast green space of Stanley Park in the heart of Downtown to Pacific Spirit Park near the University of British Columbia and the beautiful beaches at Kitsilano. The Pacific Rim National Park Reserve is located on Vancouver Island's west shore and it's a seductive slice of Canada's most unspoiled and rugged wilderness, comprising varied terrain from rainforests to coastal cliffs and powder sand beaches. Other excellent national parks include Banff National Park in the heart of the Rocky Mountains west of Calgary, and Mont Tremblant National Park in Quebec, accessible just a couple of hours drive from both Montreal and Ottawa.
Things to do in Canada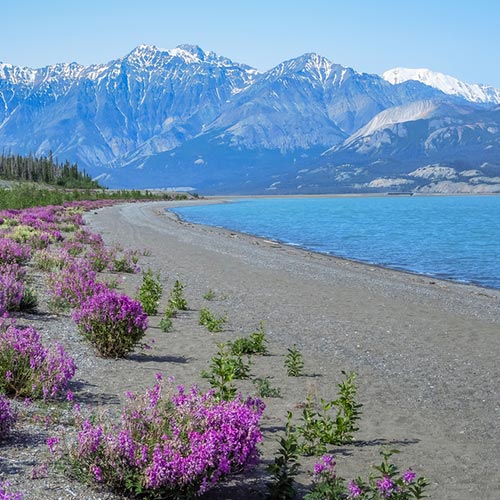 Great Outdoors
If you've not traveled in Canada for a while and you don't get out into the countryside as much as you'd like, experiencing the nation's natural blessings again will remind you that the great outdoors is truly at their greatest right here and there are so many mind-blowing experiences on offer. For instance, you could follow the Cowboy Trail in Alberta ranching country between the Rockies and the prairies, riding a horse through undulating wheat fields and pioneer towns, with snow-capped peaks always in view. If trailblazing days of yore fire your imagination, you'll love this. Alternatively, if you've got a head for heights (and the right gear), nothing beats tackling the high trails of the Canadian Rockies, where hiking tracks take you north to Kananaskis and on through the burnished canyons and azure lakes of Waterton National Park. From here you'll hike through the Wilcox Pass to the otherworldly Columbia Icefields await, with serene Lake Louise beyond.
Community festivals
With such a rich history and vast range of cultures, Canada's cultural calendar is packed with fabulous festivals which are a joy to take in and there really is something to suit all tastes. The Calgary Stampede is one of the most famous and attracts over one million visitors each July. With daily rodeos, country music and dramatic evening shows, this is a must for anyone with an interest in cowboy and cowgirl culture. Meanwhile, of explosive entertainment is your bag, don't miss Vancouver's Celebration of Light, which is typically held in July/August. The world's largest fireworks competition, this eye-popping, neck-straining event is held over three nights and features stalls, concession stands, concerts and food trucks as well as pyrotechnics. Alternatively, if music floats your boat, the Montreal International Jazz Festival is usually held in June and this annual celebration has attracted big name guests like Aretha Franklin, Ben Harper, and Norah Jones in the past. If you're hitting the road in the chillier seasons, Ottawa's Winterlude is held in February and it's also worth sampling if you like the sound of live music and entertainment as well as skating on the Rideau Canal Skateway, which is transformed into a 5 mile skating rink every winter and spans an impressive five miles.
Entertainment & nightlife
Whether you're a born Canadian or immigrated from elsewhere, you'll know fine well that this is a nation that likes to party. So if letting your hair down and having the time of your life is high on your staycation agenda, we've prepared a few tips on nightlife highlights in several cities. For starters, Montreal has much to recommend it – including the beautiful Montreal Casino, which is the largest in the nation, the unusual Bar Le Lab which caters for cocktail aficionados looking for exotic concoctions, and the Upstairs Jazz Bar and Grill, which does what it says on the tin, but exceptionally well. Alternatively, if you're looking for laughs in Toronto, head to Second City for world-class comedy, while Cold Tea is a local favorite BBQ joint at Kensington Market which is always a hip hangout, and Hugh's Room is an expansive pub showcasing the city's best bands, serving a huge variety of drinks and tasty food. Last but not least, Vancouver has a vibe all of its own, characterized by beautiful bars like Opus (an elegant place to hang out with friends and enjoy quality music), and the Roxy Cabaret on Granville Street's Entertainment District, which hosts live music, a pulsating dancefloor and free-flowing fresh beer all evening long.
Shopping & Eating in Canada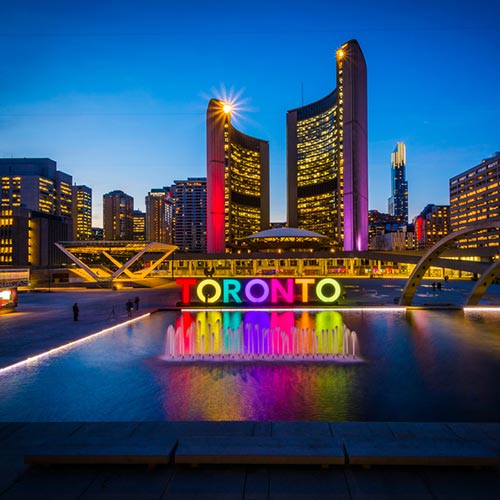 Canadian-born
If you want to shop Canadian, there are several brands which were born here – some of which you might not automatically with this fine nation, others which are as iconic as maple syrup. For starters Canada Goose proudly proclaims its provenance in no uncertain terms, but this family-founded outerwear company should be celebrated for its worldwide reach and fine products. Another Canadian export is handbag and backpack brand Herschel, founded by brothers Jamie and Lyndon Cormack in the town of the same name, while world-famous tech entertainment brand IMAX is also Canadian – it was founded in 1968 and there are now 1000 IMAX theatres worldwide. If you're a fan of stretchy sports clothing, you've probably heard of Lululemon? Originally founded in Vancouver in 1998 as a yoga clothing brand for women, it now produces fashions for men too and covers a wide range of sports and outdoor activities.
Shopping hotspots
Fancy some serious retail therapy? There are several shopping hotspots in Canada that you shouldn't miss. For East Asian edibles, homeware and fashion, don't miss the Pacific Mall in Markham, Ontario, where there are over 450 vendors selling everything from fashion to flowers and herbs. However, high-end shoppers should make a beeline for plush Yorkville in Toronto, where chic boutiques host big names like Burberry, Louis Vuitton, Prada and Hugo Boss. Meanwhile, the West Edmonton Mall is so vast that it feels like a retail metropolis – there's six million square feet of commercial space here and over 800 stores to choose from, as well as a mini golf course and expansive water park.
Cuisine choices
You can tempt your taste buds with food from all over the world in Canada, but the national cuisine is also worth rediscovering. Let's kick off with poutine – who doesn't love this fabulous French-Canadian dish comprising fries lathered with squeaky curds and a peppered meat-based gravy? Other national favorites are Canadian bacon, which has a unique taste because it's lean pork loin which has been prepped in brine and rolled in cornmeal, and beaver tails, which are flattened donuts dusted with sugar and enhanced with any other sweet topping of your choice. If you'd like to wash any of these treats down with a quintessentially Canadian dish meanwhile, try a fresh Caesar made from clamato juice, vodka and Worcester sauce and served in a salt-rimmed glass.
Canadian Transport
Airports
Canada is well served by local and international airports, with Toronto's Lester B Pearson International Airport (YYZ) serving 147 destinations, Montreal's Pierre Elliot Trudeau International Airport (YUL) serving 93 locations and Vancouver International Airport (YVR) 75. Meanwhile, Calgary International Airport (YYC) is connected to 59 destinations, Edmonton International Airport (YEG) 38 and Halifax/Stanfield International Airport (YHZ) 28. Smaller hubs include Yellowknife Airport (YZF), Winnipeg International Airport (YWG), Kelowna International Airport (YLW) and Thunder Bay Airport (YQT).
Public Transit
The public transit system in Canada is efficient and there are several options available in most major towns and cities. However if you're traveling further afield where services are less regular, renting a car will provide you with the flexibility and independence you're used to. Canada has three rapid transit systems – the Vancouver SkyTrain, Montreal Metro and Toronto subway. There's also a vast railway system covering over 72,000km and commuter rail systems in Montreal, Toronto and Vancouver. Many cities also have bus systems and there are boat services traversing the nations multiple lakes and seaways.
Driving tips
If it's been some time since you've undertaken a Canadian road trip, chances are you'll be just as impressed by the scenic experience as any first-time visitor once you get out onto the open road. If you usually exclusively drive in the city, it's worthwhile reminding yourself of some solid tips for making the most of driving here. First of all, prepare properly by mapping out your route and feeding the relevant information into a Satnav if you have one. Remember that language might be an issue too – if you're heading for Quebec then lots of the road signs are in French, so learn a few useful basic phrases, like 'arret' for 'stop' and 'route baree' for 'road closed'. The speed limit on most motorways is 100 km/h, but it's 120 km/h in some provinces and as low as 90 km/h in others. The usual limit in built-up areas is 50 km/h and it can be as low as 30 km/h around schools. Remember the dangers of black ice in winter and also beware of wildlife on the road in rural areas – with everything from moose to bears on the road, the results of a collision can be deadly serious.
Got a Question? Chat with our online support team
Online chat help is open 8:30am to 5:00pm weekdays. Email: [email protected]
FAQs about car rental in the Canada
Most frequently asked questions about renting a car in the Canada
Prior to Covid you could pick up an economy car for example a Toyota Yaris for less than $15 a day, or a Jeep Wrangler in Toronto for around $30 a day, however in 2021 the prices have increased significantly due to cuts in car production during the Coronavirus pandemic and could be roughly double this price on average.
Thrifty, Hertz, Europcar, Avis, Budget and Alamo are all popular Canada car rental providers.
This depends on several factors but by renting a car in Canada through a comparison site like Enjoy Travel, you can find the best deals from several providers.
Book ahead of time online to find a cheap car rental in Canada.
Let your car rental company know as soon as possible – some companies allow free cancellation up to 48 hours prior to pickup time.
Not usually – excess-free packages are standard for most car rental companies, as are road-side assistance, theft protection, and collision damage waiver.
Yes – it's fairly common to add extra drivers, provided they have a valid license, and an additional daily fee is paid.
This depends on your travel plans, the most popular cars include Toyota Corolla, Nissan Rogue and Jeep Wrangler, depending on your budget.
In the unlikely event you have a serious accident in Canada, call 911 immediately for emergency services.
Explore popular places in the Canada