Calgary Car Rental
Find the best deals in Calgary
Choose from the biggest brands, compare sedans, convertibles, sports cars, SUVs, mini-vans, coupes, hatchbacks and more.
Search, Compare and Reserve online
Over 150 Suppliers across 140 Countries
Huge choice of cars to suit every budget
Compare Car Rental in Calgary
Nestled between the foothills and prairies east of the front ranges of the Canadian Rockies, Calgary is Alberta's most populous city and the second-biggest in western Canada. Its stunning surroundings, impressive cuisine scene, eclectic nightlife and pioneering history and culture make it a popular place to live and visit – if it's on your Canadian staycation shortlist, you're making a good choice!
There are plenty of things to see and do in Calgary. From live music venues to renowned restaurants and artisan coffee shops, and craft beer bars to independent boutiques, there's shopping and entertainment to suit all tastes. If you like to stretch your legs for an eye-opener morning run, there are lovely riverside pathways that make it an absolute pleasure and there's even a surfing spot where you can hang ten and soak up the beach bum vibes.
With so much sublime scenery on your doorstep, renting a car here is the best way to make sure you don't miss out and you can pick up your ride from Calgary International Airport (YYC) or various city locations if they're more convenient. You can hire an intermediate car like a Toyota Corolla in Calgary for around C$69 a day, a standard-sized Kia Forte is C$ 71 a day and a full-size Nissan Altima is C$ 81 a day. With versatile deals from top partners, easy online booking in a few minutes and a peace of mind cleanliness pledge, Calgary car hire from Enjoy Travel is tough to beat!
Guide to Calgary
About Calgary
Calgary's location at the confluence of the Bow and Elbow Rivers where the prairies rise skyward to become the Rockies couldn't be more beautiful. The city trades on its historical rough and tumble cowboy image (the annual Stampede is still a massive tourist magnet) but in economic terms, oil and gas are now much more important economic levers than cattle and horsemanship. With a population of around 1.5 million, the city has spread far beyond its original footprint and includes lots of lush suburbs – it has been rated the 'most livable city in America' twice in recent years by the Economist Intelligence Unit and its culture, cuisine and sports scenes further bolster its brilliant reputation.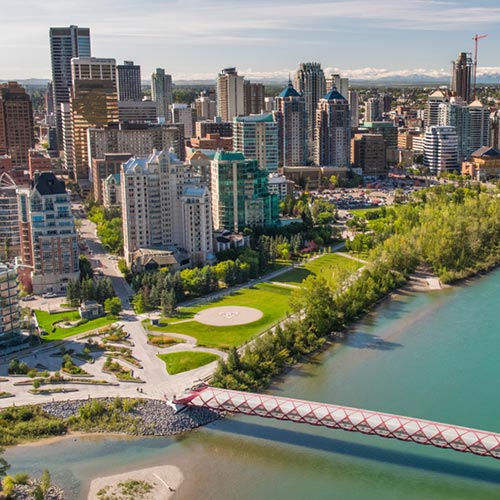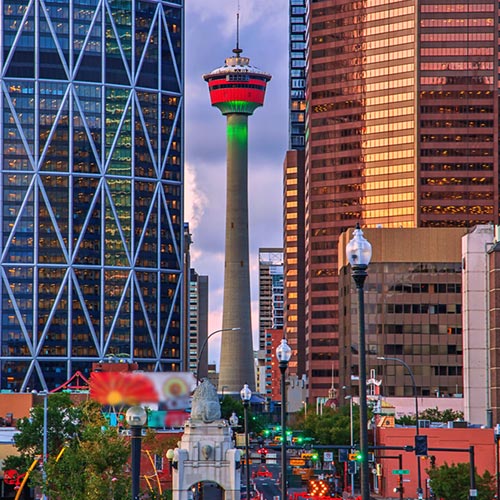 Fascinating history
Modern Calgary was incorporated as a town back in 1884 and it actually predates the founding of the province of Alberta (1905). Its tiny original population had grown to almost 4000 by the early 1890s, when it was boosted further by the Calgary-Edmonton rail connection. This vital rail link was a boon for its extensive farming community, and it soon became the main shipping hub for the area's cattle industry, with stockyards, meat-processing plants, tanneries and abattoirs all springing up in quick succession. Natural Gas was discovered close by in Turner Valley in 1915 and then crude oil was struck in the same are in the mid-1930s, making Calgary a major location for the petroleum industry and skyrocketing its collective coffers.
Contemporary Calgary
Like many North American cities, downtown in modern Calgary is characterized by a constellation of crystalline high-rise buildings, and its complemented by changeable weather that manifests itself in warm winds on cold winter days and snowfall in the height of summer. Civic improvements here have always been prioritized, with the first streetcars introduced in 1909 evolving into the current comprehensive public transit system, and excellent cultural institutions include a clutch of terrific theatre companies, the symphony orchestra and several ballet and opera companies. Rocky Mountain skiing is within easy reach and professional spectator sports in Calgary include ice hockey, Canadian Football and lacrosse.
Things to do in Calgary
Calgary Stampede
Held annually each July, the Calgary Stampede bills itself as 'The Greatest Outdoor Show on Earth' and if you attend any of this 10-day Old West extravaganza, you would be hard pushed to argue. The stampede rodeo is held daily each afternoon, and this is where you'll see skilled (and brave) spur and Stetson-clad rodeo pros showcase their will and skill with bulls, horses and equipment like lassos. There's also an evening show spectacular each night with fireworks and music and dance drills, and all manner of themed food and fun attractions dotted all over the site. All in all, this must be the world's best attraction for serious cowboys and cowgirls!
Calgary nightlife
Calgary has plenty of places to quench your thirst. You can take your pick from plush bars and restaurants in the Beltline area, the buzzing 17th Avenue, the culture clash of International Avenue and the mainstream delights of Downtown. Individual venues to look out for include the Commonwealth Bar & Stage (plenty of space to boogie), Jimmy's Nightclub (Hip-Hop, Reggae and Electro vibes), and Eden (a high-end club with a VIP area and rooftop patio). There are also lovely bars like Betty Lou's Library (speakeasy-style bar in the Devenish Building), the glamorous Sub Rosa located below The Guild, and the niche Bourbon Room below the National beer hall on 10th.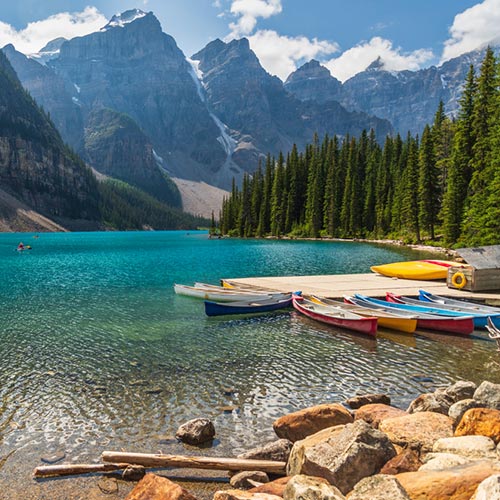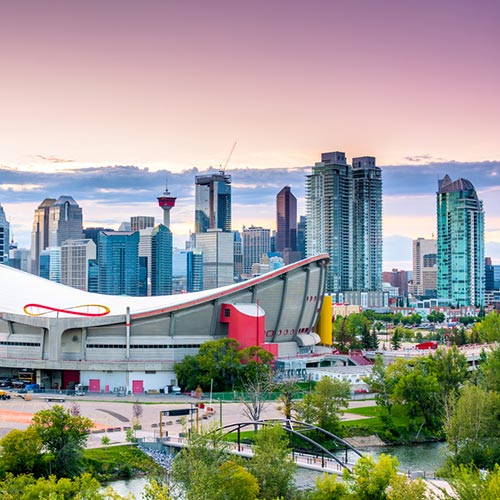 Shopping & Eating in Calgary
Malls
If you're a serious shopper, you can spend your entire staycation in Calgary's diverse shopping malls. For starters, Bankers Hall on Stephen Avenue Walk is the place to be if you've got high end tastes as it's packed with chic boutiques and sumptuous dining options at Sunterra Hall and Bourbon Street Grill. Alternatively, CG Chinook Centre is Calgary's biggest combined shopping, entertainment and dining destination and it feels a bit like an indoor city, with its own cineplex, bowling arena, endless eateries and shops like Saks Fifth Avenue and Hudson's Bay. Meanwhile, the CORE Shopping Centre is the only mall located in Downtown and apart from the super selection of stores, it's a pleasant, family-friendly place to shop with its living wall, tropical fish, botanical gardens and kids playground.
Independent stores
If independent shopping is your bag, Calgary doesn't disappoint either. Unique highlights here include The Chocolate Lab in Downtown (try the 'Packing Heat' chocolate!), Reid's Stationers with its peerless collection of stationery, decorations and fountain pens, Market Collective for lovely local crafts and The Vanishing Rabbit Magic Shop where you'll find terrific tricks for the keen magicians in your life.
Eating out
With lots of varied influences, Calgary is a world tour for your tastebuds. If you like minimalist, modern surroundings and creative fine dining, you'll enjoy Alloy at 220 42 Ave. S.E., Bonterra Trattoria is arguably the best place to feast on upscale Italian fare (with artisan pasta a specialty), and Brigette Bar is an elegant location with classic décor and wonderful wood-fired comfort food. For something a little different, the Calcutta Cricket Club is also worth a look – chef Amit Bangar serves up delicious Kathi rolls and inspirational Indo-Chinese fusion food.
Calgary Transport
Airports
Calgary Airport (YYC) is the main air gateway to the city and it's located 17km northeast of Downtown. Book your YYC car rental from Enjoy Travel and choose from various trusted providers here.
Public transit
Public transport in the city is administered by Calgary Transit and comprises the reliable CTrain light rail system and rapid transit bus system. With thousands of vehicles and hundreds of routes, coverage is comprehensive and efficient.
Driving tips
Calgary speed limits are 50km/h on most roads (but check signposts) and playgrounds and school zones are restricted to 30km/h during specified times. If you're traveling here in winter, snow tires are recommended and please be wary of wild animals and livestock. crossing the road in rural areas. Calgary city center is divided into four quadrants (N.W., N.E., S.E. and S.W.) in a numbered grid that comprises numbered streets running from north to south and numbered avenues running from east to west.
Got a Question? Chat with our online support team
Online chat help is open 8:30am to 5:00pm weekdays. Email: [email protected]
COVID CLEAN & SAFE PLEDGE
FAQs about car rental in Calgary
Most frequently asked questions about renting a car in Calgary
Car rental prices in Calgary start at from around $35 per day average.
Anything from around C$68 for a basic model to C$ 350 for a luxury vehicle, depending on when you book.
Car rental providers available through Enjoy Travel at Calgary Airport include Routes, Thrifty, Alamo, and Hertz.
Most car rental providers insist that you must be 21 years of age and some impose a surcharge on drivers under 25.
This depends on the makeup of your party and your plans. A comfy station wagon could be ideal for a family staying close to the city but if you're venturing further afield, an SUV or minibus might be preferable.
The cheapest calgary rental car was $ 10.72 a day.
The most popular budget car it a Kia Rio and the most popular overall is a Jeep Wrangler.
The minimum age to rent a car in Calgary is 21.
The distance between Calgary Airport and downtown is around 19 km
The distance between Vancouver and Calgary is around 970 km and a beautiful scenic drive.
Explore popular places in the Canada