Canada Car Hire
Find the best deals in Canada
With a massive choice from the biggest brands, Enjoy the best way to find the best prices for car hire in Canada.
Huge choice of cars to suit every budget
Save up to 70% compared to buying on the day
10 years experience in car hire
Compare Car Hire in Canada
Canada takes up the lion's share of the northernmost part of North America and covers 9.98 million square kilometres, making it the world's second biggest country by total land area. It's home to almost 38 million inhabitants hailing from a range of diverse groups, including Indigenous North Americans, Europeans, Asians, Africans and Latin Americans.
Famous for majestic mountains, beautiful lakes and rugged coastlines, the great outdoors might be at its greatest in this gorgeous nation. There are Metropolitan attractions here too, from the capital Ottawa to terrific cities like Toronto, Montreal, and Vancouver. With a warm, welcoming and inclusive culture as well as a high quality of life, Canada is consistently rated as one of the world's most desirable destination to visit and settle in.
Canada is served by several international airports, including Calgary International (YYC), Edmonton International (YEG), Montreal-Pierre Elliott Trudeau International (YUL), Ottawa MacDonald-Cartier International (YOW), Toronto Pearson International Airport (YYZ), Vancouver International (YVR), and more. Enjoy is well placed to provide you with a choice of great car hire deals from reliable firms at any of these hubs. For instance, at the moment a compact Toyota Yaris costs just £29.93 at YOW and a roomy Dodge Grand Caravan costs just £32.75 a day at YVR. Book your car hire online with Enjoy in a couple of clicks and you're ready to roll in Canada, but first let's take a look at some interesting facts on this fabulous country.
About Canada: the two official languages here are English and French, and Francophile culture thrives in areas like Québec. Although the nation is officially bilingual, many more languages are represented ̶ Chinese dialects are the next most common, while Punjabi, Spanish and Arabic are also present. Meanwhile, the most common indigenous languages are Cree languages, Inuktitut and Ojibway.
Airports and access: From Vancouver to Québec and everywhere in between, Canada is served by a superb network of airports that connects it with the rest of North America and the world. You can fly here directly from many major European cities and catch connecting flights from practically anywhere on earth.
Driving around Canada: As you might expect, Canada offers some dynamic driving. Whether you love curvaceous coastlines, cool forests, majestic mountains, or inspirational icefields, hitting the road here is always spectacular. Here are a few favourite Canadian road trips:

If you appreciate tree bathing and beautiful coastal roads, you love the Vancouver to Tofino, British Columbia route. Roll onto the ferry in Horseshoe Bay for the two-hour crossing to Vancouver Island via the Strait of Georgia, then start your 200 km route from Nanaimo to Tofino, pausing at McMillan provincial park to stroll through the gigantic Douglas fir trees. When you reach Tofino, you'll be impressed by its laid-back surf spot vibe.

Do glaciers and crystal-clear starry nights float your travel boat? If so, the 230km icefields Parkway route in Alberta is an awesome choice. It runs between Banff and Jasper, right through the middle of the Rocky Mountains, with thick woodlands, towering waterfalls and rugged peaks on the way. The Banff and Jasper National Parks host the huge Columbia Icefield and camping under the stars here is an experience you'll never forget.

Famous Canada: Canada is famous for moose, Mounties (officially the Royal Canadian Mounted Police), Maple syrup covered pancakes, Poutine (a side dish comprising chips cheese curds and gravy) and politeness. It's also the home of ice hockey and punches above its weight when it comes to brewing craft beer.
Canada's no slouch when it comes to producing famous sons and daughters either. For instance, actors Jim Carrey, Ryan Gosling, and Rachel McAdams hail from here, as do music artists Celine Dion and Justin Bieber. Furthermore, film directors James Cameron and David Cronenberg are Canadian, as is writer Margaret Atwood.
Guide to Canada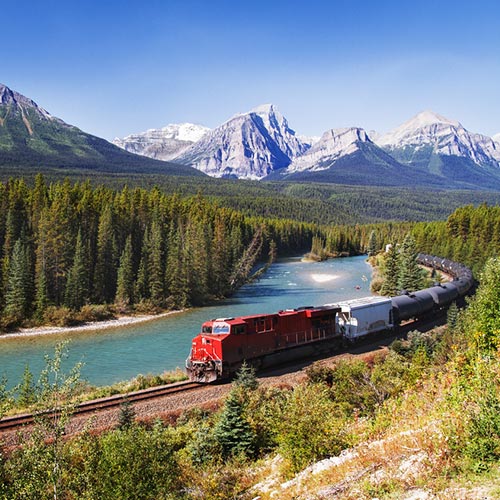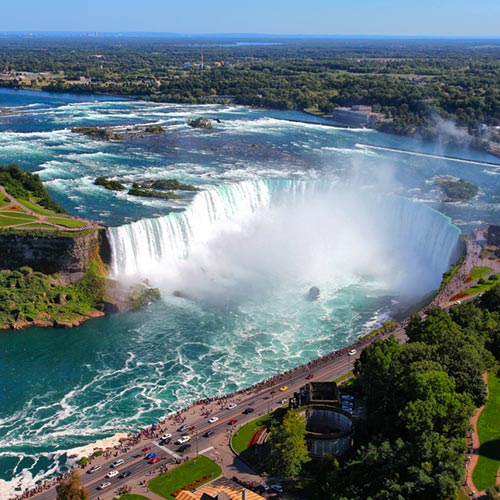 The Canadian Shield is an undulating region of swamps and lakes that stretches across northern Canada and contains some of the oldest rock formations on the planet. Meanwhile, in the extreme north, Canadian territory stretches into the Arctic and the frozen landscape is permeated with ice fields and glaciers. This is the heartland of the First Nations peoples, it's prime territory for hunting and fishing and First Nation art is now rightly recognised globally as a symbol of Canadian culture.
It's believed people first settled in Canada between 15,000 and 30,000 years ago when they crossed the land bridge that joined Asia and North America at that time. Viking Explorer Leif Erickson reached Newfoundland in Canada in around 1080AD and tried to settle but his attempt was ultimately unsuccessful. French and British sailors then arrived in the 16th century and trouble soon started between farmers and fur traders, leading to four conflicts between 1689 and 1763, the last of which was the French Indian war, after which control of Canada was ceded to the British, although a strong French influence has been maintained over the generations. Canada became a fully independent entity in 1931 and now comprises 10 provinces and three territories. A melting pot of cultures and terrific terrain, Canada is a gift that keeps giving for anyone fortunate enough to visit.
Indigenous People
Canada has three main groups of indigenous peoples and several subgroups, so the country's cultural tapestry is interwoven with many rich, diverse and ancient cultures and more than 1.4 million Canadians identify themselves as Aboriginal. The First Nation community is the largest group and comprises more than 630 communities representing 50 indigenous languages and more than 50 nations. Next come the Inuit, the indigenous peoples of the Canadian Arctic. Last but not least, the Métis are an indigenous group of mixed European and Indigenous North American extraction, whose original homeland is in Canada and sections of the United States between The Rocky Mountains and the Great Lakes region.
Magnificent mountains
Canada is synonymous with mountains, and the country's most famous range is the Canadian Rockies, which create a 900-mile natural border between the provinces of Alberta and British Columbia. Famous peaks in the Rockies include Mount Assiniboine, North Twin Peak, Mount Alberta, and Mount Robson. In the North of the country you'll find the Saint Elias mountains which include several high-altitude peaks above 17,000 feet, including Mount Lusitania, Mount King and the famous Mount Logan. In the Atlantic region in Canada's East Coast, you'll find the Torngat mountains and the Canadian Appalachians, while central Canada is home to the ancient Laurentides range and the Blue Mountains in southern Ontario.
Legendary Lakes
Canada is also home to some of the world's most beautiful lakes. Moraine Lake in Alberta is one of the most famous and photographed bodies of water worldwide. Located in the Valley of the 10 Peaks, its stunning turquoise water is beautifully complemented by the slate grey snow-capped mountain backdrop and gorgeous green Forested shore. Meanwhile, Lake Ontario is one of Canada's 5 Great Lakes and covers an impressive 7000 square miles. You'll find brilliant beaches and water sports here but taking a cruise to see the city skyline from the water is also a big tick in the bucket list box. There are many more mind-blowing lakes, including Garibaldi Lake in British Columbia, and Maligne Lake and the lovely Lake Louise, both in Alberta.
What to do in Canada?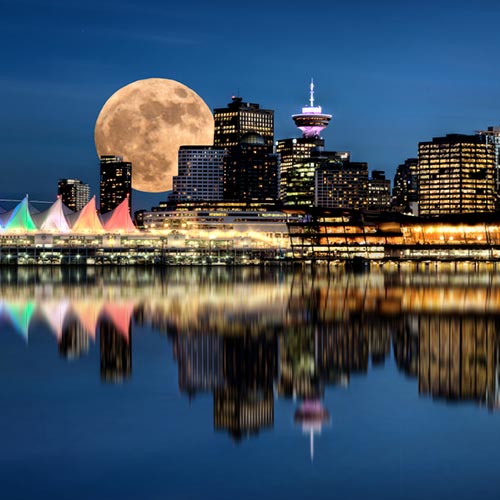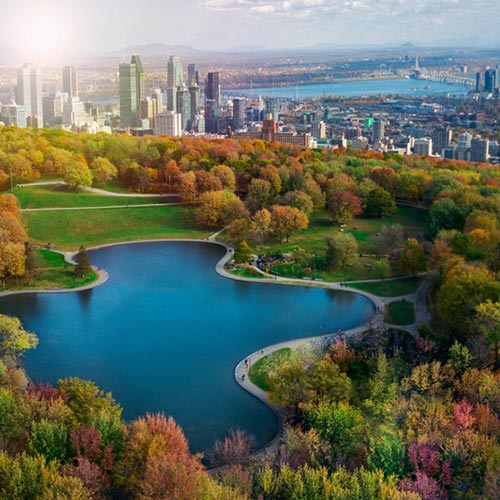 Ice Hockey
Ice hockey is almost a religion in Canada. It's the official national winter sport and its roots can be traced back to various stick and ball games imported from Great Britain and blended with indigenous pastimes. Professional ice hockey started in Canada in the 1890s and the tough, fast and sometimes downright dangerous game quickly became part of the national psyche.
The Stanley Cup is awarded to the annual champions and it's the oldest trophy in North American sports, having first been presented back in 1893. Canada's national ice hockey team has won the world championship no less than 26 times and Olympic gold on 9 occasions. Club teams like the Montreal Canadiens, Vancouver Canucks, Edmonton Oilers, Toronto Maple Leafs and Calgary Flames attract a fanatical following ̶ if you get the chance to watch a live match you should grab it tighter than gloves around an ice hockey stick!
National Parks
Canada could claim to be the world's most dynamic destination for nature lovers, and its fauna, flora and geographical features are showcased in stunning style in its extensive National Park network. Hightail it to Jasper National Park on the slopes of the Rockies in Alberta and you'll see the colossal Columbia Icefields, blooming Alpine Meadows and wildlife including big horn sheep, caribou, elk and bears. Alternatively, the Pacific Rim National Park in British Columbia skirts the serpentine Vancouver Island shoreline and boasts dramatic coastal cliffs, gorgeous golden beaches, stunning rainforests and wonderful white horse waves at locations such as Long Beach. Last but not least, Banff National Park in Alberta is nestled bang in the heart of the Rocky Mountains 150 kilometres West of Calgary. It's the country's oldest National Park and has many areas of preternatural beauty, ranging from crystalline lakes to snowy mountains and magical forests to fresh Alpine Meadows. The bustling town of Banff is home to bijou boutiques, chic cafes and bars serving cool craft beers. Meanwhile, the awesome aquamarine waters of Lake Louise make it one of the world's most picturesque spots.
Urban attractions
Although its natural blessings often steal the show, Canadian cities also have much to recommend them. Toronto in Ontario is the largest city and features landmarks like the famous CN Tower and popular attractions like Toronto Zoo as well as cultural highlights like the Royal Ontario museum, the Gallery of Ontario and the Hockey Hall of Fame. Meanwhile, Francophiles will feel at home with Quebec City's quaint cobbled streets , horse drawn carriages and castellated Old Town. Regarded as canada's most beautiful city, Vancouver in British Columbia is another must-see. With the Pacific Ocean to the west, scenic mountains to the north and the lush green space of Stanley Park enhancing downtown, the setting couldn't be better. You'll also enjoy browsing independent shops and restaurants in the trendy Gastown District or hunting for bargains in the Granville island market.
Shopping & Eating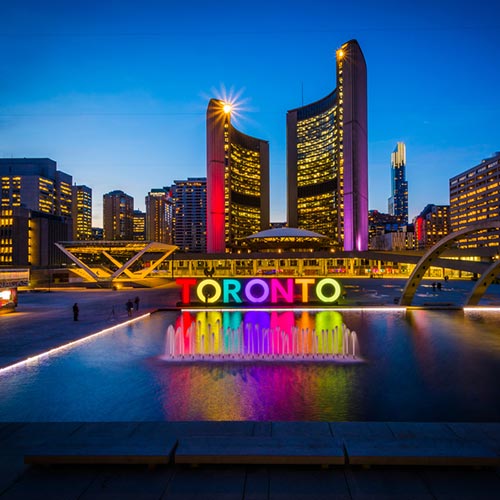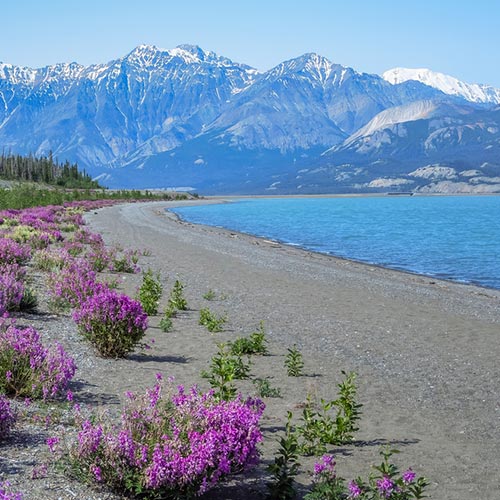 Fine Dining
It's tough to pick a favourite from amongst Canada's long list of world class eateries, but if we're pushed, it might be Langdon Hall in Cambridge, Ontario. Head chef Jason Bangerter has elevated fine dining here into an art form and the food doesn't just taste divine but looks almost too good to eat! Try the signature truffle soup with pureed mushrooms and truffle oil finished with a flourish of truffle foam, or the squab breast sizzled and duck fat unserved with a puree of sunchoke and chocolate jus. This exquisite eatery is love at first bite.
Street Food
Vancouver has a vibrant street food scene and at Richmond Night Market you'll find Asian-inspired dishes like fish sticks, Takoyaki and grilled octopus, while at Shipyards Night Market in the north of the city next to Lonsdale Quay there's a busy beer garden, live bands, local craft stores and eclectic food trucks serving everything from Australian meat pies to spicy Indian curry's.
Sweet treats
Canada's sweet tooth isn't just confined to pancakes and Maple syrup ̶ you can also gorge yourself on Flapper pie (a type of crumble stuffed with creamy custard and topped with meringue) or a sublime Saskatoon Berry pie stuffed with juicy blueberries and topped off with vanilla ice cream or lashings of whipped cream.
Canada Transport
Canada Airports
Canada has many international airports, including Vancouver International (YVR), Toronto Pearson International Airport (YYZ) and Calgary International Airport (YYC). Enjoy partners with a range of trusted global and local car hire companies at every Canadian airport, so wherever you're landing, you can roll out on your adventure with complete confidence.
Buses, trains and ferries
There are several modes of public transport in Canada and the network is extensive, although services are concentrated in more populous areas. Rail Canada operates trains across the country, and you can purchase tickets online or in person at train stations. Buses can be an economical way to travel but if you're covering large distances in this vast nation be prepared for very long journeys. Greyhound runs the largest network and you can buy tickets over the phone or at bus stations. In the coastal areas of Canada like the Atlantic region and British Columbia ferries are commonly used and many transport vehicles as well as passengers, so you can hop on with your hire car and roll right out at your destination.
Driving tips
You drive on the right side of the road in Canada. In the majority of territories and provinces, the speed limit is 50 km/h (31 mph) in urban areas, 80 km/h (50mph) in rural areas and either 100km/h (62mph) or 110 km/h (68mph) on freeways.
Seatbelts are mandatory for the driver and all passengers, it's illegal to use a hand-held mobile phone while driving and moves are afoot to ban smoking at the wheel, although it's still permitted at present.
You're usually allowed to turn right when presented with a red light in Canada, except on the Island of Montreal, and unless there's signage clearly prohibiting it. You must bring your car to a complete stop to perform this manoeuvre and proceed with extreme caution.
There are two types of green lights in Canada ̶ a static green light, which means the same as it does in the UK, and a flashing green light, which means you've got the right of way to turn off to your left.
You might encounter 4-way stops in Canada and the rule is that the first car to stop should be first to go. If you arrive at the same time as another vehicle, you should give way to the car on your right.
Got a Question? Chat with our UK support team
Online chat help is open 08:30am to 17:00 weekdays. Email: [email protected]
FAQs about car hire in the Canada
Most frequently asked questions about hiring a car in the Canada
A roomy Toyota Corolla is only C$ 18.40 a day at the time of writing and a durable Jeep Wrangler is just C$ 26.85 per day.
Hiring an economy Toyota Yaris at Toronto Pearson International Airport at the moment costs just C$ 17.62 a day.
The minimum age to rent a car in Canada is 21, with 12 months of driving experience. Some companies apply a surcharge for drivers aged 21-15 so please check.
Not usually – excess-free packages are standard for most car hire companies, as are road-side assistance, theft protection, and collision damage waiver.
Yes – it's fairly common to add extra drivers, provided they have a valid license, and an additional daily fee is paid.
This depends on your travel plans, but since they probably include exploring Canada's varied terrain, a tough SUV like a Toyota Highlander (7-seater) is a wise choice.
In the unlikely event you have a serious accident in Canada, call 911 immediately for emergency services.
It's hard to say as Canada is a very big country, but on average it's moderately expensive. You'll be spending CA$184 per day.
Yes, especially if you plan to take any excursions or visit the gorgeous national parks.
Besides exploring its naturally beautiful countryside, you should spend a few days in each of its big cities such as Toronto and the Niagara Falls, Montreal, Quebec City and Vancouver.
The best time to visit Canada is a bit difficult to define, travel in winter if you want to ski, and in summer if you prefer to do outdoor activities or visit big cities.
It's CA$370 for a week, or CA$53 per day.
It's CA$2301 for a month, or CA$74 per day.
Price of fuel in Canada is between CA$ 1.63 and CA$ 1.25 per litre.
Explore popular places in the Canada