10 Best Day Trips from Toronto
Niagara Falls
Milton
Ferris Provincial Park
Algonquin Provincial Park
Rattlesnake Point
Elora
Blue Mountain & Collingwood
Aberfoyle
Dundas Peak
St Jacob's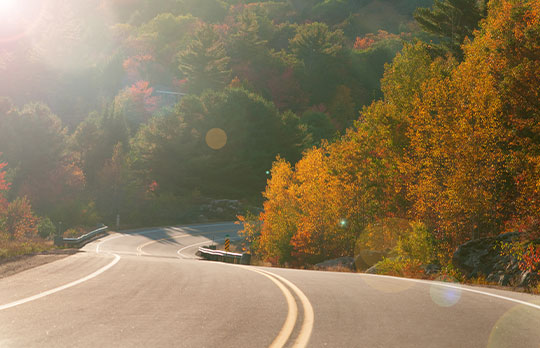 Top 10 scenic day trips from Toronto
Ah, Toronto. Even the name trips off the tongue in a terrific way. The capital of Ontario, this is Canada's most populous city (population of 2.8 million) and the fourth-biggest in the whole of North America. Part of the Golden Horseshoe megalopolis that skirts Lake Ontario, it's one of the most sophisticated and multicultural cities on Earth and a centre for commerce, sports, arts and culture.
There's no shortage of things to see and do in this lively, creative city. The Distillery District in Old Town is a pretty good place to start. Clustered around the original 1832 Gooderham and Worts distillery, this massive area is the highlight of downtown for many locals and visitors alike. Closed for over a decade after 1990, this former industrial site rose from a phoenix from the flames in a regeneration project which transformed workaday warehouses into gorgeous galleries, chic boutiques, expansive artists studios, restaurants and cafes. Meanwhile, the 533m CN Tower is another highlight, the Hockey Hall of Fame showcases Canada's favourite sport, and there are several lush urban beaches where you can relax in the sand and splash around in the water – remember your sunblock, swimsuit and bucket and spade!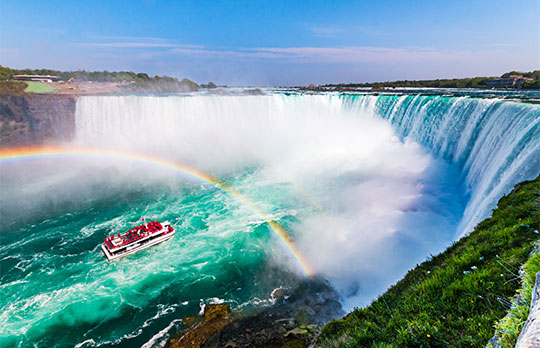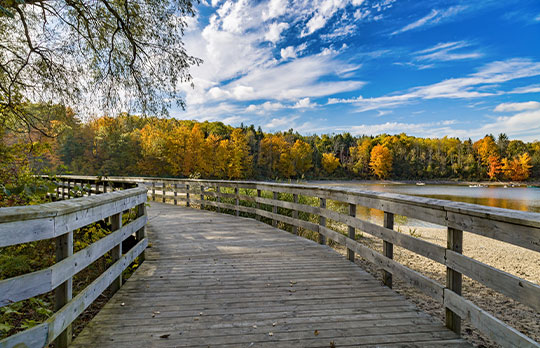 Preparing for your day away from Toronto
We'll get onto your Toronto day trips shortly. But first, some tips on packing and prepping for your days away.
Just in case you're still not sure, please always drive on the right in Canada. In most territories and provinces, speed limits are 50km/h in urban areas, 80km/h in rural areas, and between 90km/h and 110km/h on motorways.
Destinations can be isolated in Canada and although all the road trips you'll read about today are doable in a day, in general, distances can be vast. Therefore it's always best to carry extra cosy clothing, water and food in your car.
Now let's get stuck into your dynamic day trips.
Niagara Falls
Just one hour and 15 minutes from Toronto via Queen Elizabeth Way, Niagara Falls is a pulsating natural attraction that has astounded visitors for centuries. It's actually possible to experience Niagara from lots of exciting angles – including taking a boat trip and feeling the spray on your face, strolling along the tunnels behind the falls to see the water from the back, and ascending the Skylon Tower for a panoramic view across the whole dramatic area. The town of Niagara Falls is right here (as you'd expect) and there's a perpetual party vibe, with lots to do for children of all ages. For a natural day trip that's fabulous fun, Niagara Falls is hard to beat.
Milton
How does a quick trip to a rural oasis sound? Just 40 minutes away via Gardiner Expy W, Milton is located in the Kelso Conservation Area where the Niagara Escarpment provides a stunning natural playground for skiers and snowboarders in winter. Meanwhile, Mountain Biking is popular in summer months and the Bruce Trail and Lime Kiln Trail are perfect for hiking. The Hilton Falls Conservation Area is another lovely green space nearby and awesome activities include swimming in the river, boating in the lake, biking, hiking and more. Kids don't need to feel left our either – attractions like Chudleigh's Entertainment Farm keep them entertained with apple picking, face painting, a corn maze and a petting zoo.
Ferris Provincial Park
Around two hours' drive from Toronto (depending on traffic) via ON-401 E, Ferris Provincial Park in Northumberland has no less than 163 campsites, an iconic bridge suspended over the Trent-Severn Waterway, dramatic natural power at Ranney Falls and a vast range of animal and plant life across the whole area. The local drumlins are distinctive elongated hills created by ancient glaciers and the Drumlin Trail System is a huge hiking trail that showcases the area's natural beauty. Enjoyable activities include boating, canoeing, birding, fishing and, of course, camping under the stars. For an active day trip offering fresh air and preternatural beauty, look no further.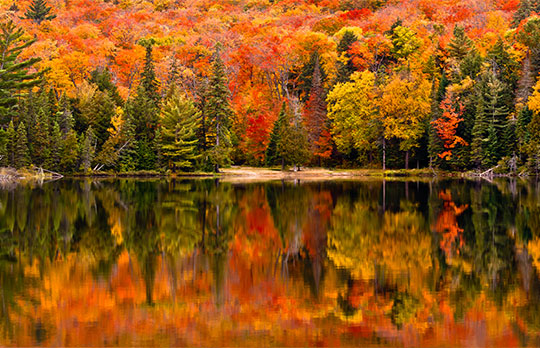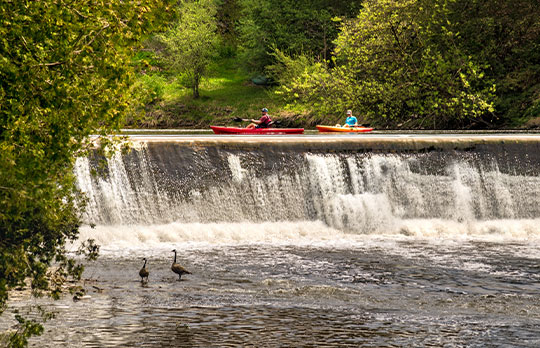 Algonquin Provincial Park
If you liked Ferris Provincial Park, you'll love Algonquin. Located two and a half hours' drive out of Toronto, this is a favourite getaway spot for city dwellers – doable in a day if you leave early, but you might love it so much you stay longer. Think beautiful lakes, forests and rivers. Activities like kayaking, camping and hiking. And if you visit at the end of August/start of September, you can take part in the Wolf Howl – howl at the park's wolves and they'll howl right back at you!
Rattlesnake Point
Just a 45 minute drive via ON-401W, Rattlesnake Point Conservation Area is a fabulous place to take a walk on the wild side. Pack your boots because this is a hiker's paradise, with world-class routes including the Nassagaweya Canyon Trail and Vista Adventure Trail on offer. You'll also see stunning cedars that have been clinging onto cliffsides for hundreds of years and striking animals like turkey vultures. Rock climbing, camping, birding, picnicking and geocaching are also available – a bit of an outdoor paradise all in all!
Elora
How does a manageable day trip to a heritage community in Wellington County sound? Elora is 1 hour and 20 minutes away via ON-401 W and it definitely lives up to expectations. Located along the beautiful Grand River, this lovely village offers a little something for everyone. You'll find thrilling activities like hiking, zip-lining and river tubing, as well as lots of independent boutiques and restaurants. Elora is a bit of an arts hub too – check out some of the many eclectic local galleries.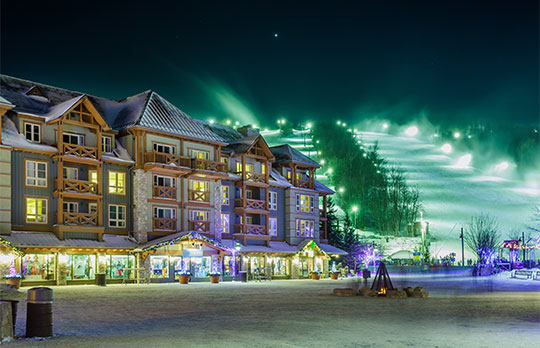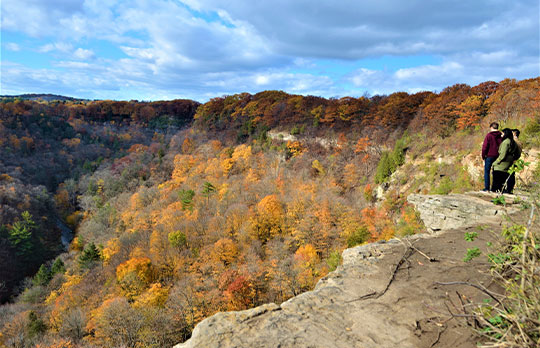 Blue Mountain & Collingwood
Two hours northwest of Toronto via Hurontario St, Blue Mountain Village is a beautiful spot for snowboarding in winter and hiking and biking in summer. It's a charming little town with lots of homely restaurants and cafes, so it's ideal for a relaxed day trip. But before you head for home, stop in at Collingwood – there are some spectacular scenic caves here and you reach them via a thrilling suspension bridge.
Aberfoyle
Just a 55 minute drive from Toronto, Aberfoyle is a dinky little settlement halfway between Guelph and the 401. If you like unique antiques, you'll be in your element here, because it's famous for the fab market that takes place every Sunday from June to October. Hundreds of dealers from far and wide attend, so there's plenty of choice and you'll certainly pick up something unique as a memento. Refuel in one of Aberfoyle's quaint cafes before you head home – treat yourself to some delicious home baking.
Dundas Peak
One hour's drive from Toronto via ON-403 W, Dundas Peak is a stunning natural lookout in the Spencer Gorge Conservation Area. Set on a prime section of the Niagara Escarpment, it affords awesome views over the Dundas Valley and town of Dundas. Speaking of which, the town itself is very attractive, with a charming downtown area packed with traditional architecture, more coffee shops than you can shake a spoon at and a host of lip-smacking restaurants. The town and its surrounding forest glades and waterfalls are very easy on the eye – you might recognise it as a filming location for TV favourites like The West Wing and Man of the Year.
St Jacob's
Last up on your list is a super-cool Ontario town that always leaves you wanting more. St Jacobs is one hour and 25 minutes from Toronto via ON-401 W and it's a real gem. Located in Woolwich township, just outside Waterloo city, this town oozes charm from every historical brick and balustrade. Market fans are spoiled for choice here because it hosts antique and farmers markets, as well as Canada's largest year-round flea market. There's a strong Mennonite community in St Jacob's and it's lovely to get a taste of a completely different way of life. One attraction that really brings history alive is the Waterloo Central Railway – hop on board to take a scenic trip to Elmira and back. As if all that wasn't enough, this is a very creative community and the St Jacob's Schoolhouse Theatre is a fabulous, intimate venue where you can catch classical theatre presented in a unique cabaret style.