10 Best Day Trips from Calgary
Banff & surroundings
Aspen Crossing
Columbia Icefields
Dry Island Buffalo Jump
Sundre
Lake Louise & Moraine Lake
Dinosaur Provincial Park
Fort MacLeod
Big Hills Spring Provincial Park
Rocky Mountain House National Historic Site
Top 10 scenic day trips from Calgary
Calgary, what a place. This cool, cosmopolitan city in Alberta boasts skyscrapers fuelled by funds from the oil industry (it's Canada's centre of the sector), the famous Calgary Stampede (an icon of cowboy culture) and stunning natural surroundings on the foothills of the Canadian Rocky Mountains. There are also lots of lovely restaurants here, tons of trendy craft beer bars, chic boutiques, riverside jogging trails and a surfing area.
Great things to do in Calgary include getting a bird's eye view of the city from the top of Calgary Tower, taking a Downtown walking tour, and visiting Gasoline Alley Museum, with its amazing collection of immaculately restored classic cars and other vehicles dating from 1900 to the 1950s. Meanwhile, giraffes, mountain gorillas and hippos make Calgary Zoo popular with kids of all ages and 17th Ave and the Entertainment District is perfect for retail therapy, with its leftfield independent shops, hip boutiques and cocktail bars.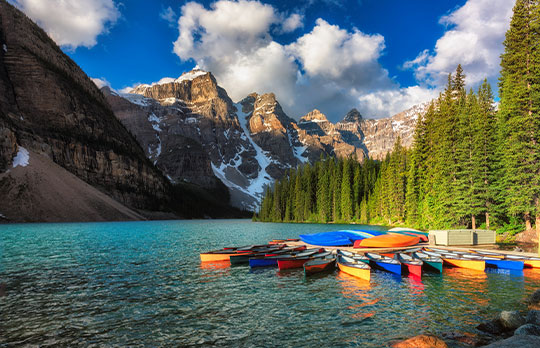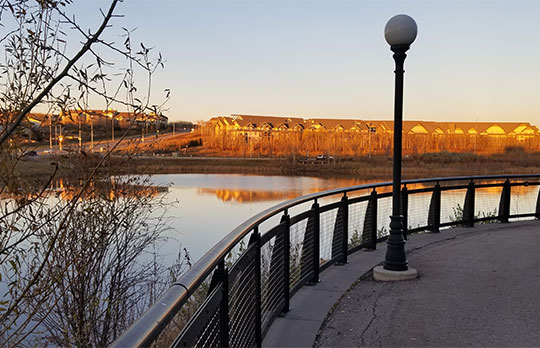 Prepping for your day away from Calgary
Calgary day trips coming right up. But let's make sure you're properly prepped before hitting the road first.
First off, none of our day trips are too far, but if you're travelling with kids in tow, you'll probably want to make sure that their tablets and other devices are charged and packed – the days of car-bound games of 'I spy' are well and truly done.
And while we're at it, don't forget the snacks. Crisps and pastries are fine but be sure to take some fresh fruit too. Meanwhile, a change of clothes and some pillows and blankets are all excellent moves, as is a first aid kit. Lastly, don't forget a flashlight, some paper towels, toilet tissues and rubbish bags – you'll be ready to mop up any spills and answer the call of nature if needs be!
Now let's roll out on those day trips!
Banff & surroundings
Let's start with a 1 hour 30 minutes road trip west along the Trans-Canada Highway/AB-1 to beautiful Banff. Banff National Park is Canada's first and its 4000 square miles are packed with pretty much every outdoor escapades you can think of – including canoeing, fishing, climbing, bird watching and fishing. And while you're enjoying leisure activities, you might also see awesome wildlife like deer, mountain lions, wolves, bears and bighorn sheep. Another great thing to do in this ace Alberta town is take a scenic trip on the Banff Gondola – this glass lift offers unparalleled Rocky Mountain views as it ascends its one mile line up Sulphur Mountain. There's an interpretive centre at the top, panoramic billboard and two terrific restaurants.
Aspen Crossing
Aspen crossing is just one hour's drive from Calgary via Highway 2 S and AB-547 E and it's ideal day trip territory where you can immerse yourself in pretty prairie scenery. While you're here, you'll want to park up your car for a while and swap roads for rail, because this is home to a fascinating heritage train ride that takes you through sublime vistas and historical sites in style. Lots of different excursions are available, but if you're here around Christmas and have kids in tow, the Polar Express is particularly magical. If you'd like to stay overnight, converted retro caboose cars are available, as well as full service campgrounds with fire pits for motorhomes.
Columbia Icefields
For something really spectacular, how does a day trip to Columbia Icefields sound? Around two and a half hours from Calgary via the Trans-Canada Highway/AB-1 W, this is an area of unique natural beauty. Hop in a giant truck to track over the ice and you'll view over 100 glaciers around you, with commentary from a professional guide. You'll get out to feel (and even taste) the ice and there's also a glacier skywalk where the views are nothing short of breath taking. If spending the day in an ancient, otherworldly landscape sounds exciting, this day trip has your name on it.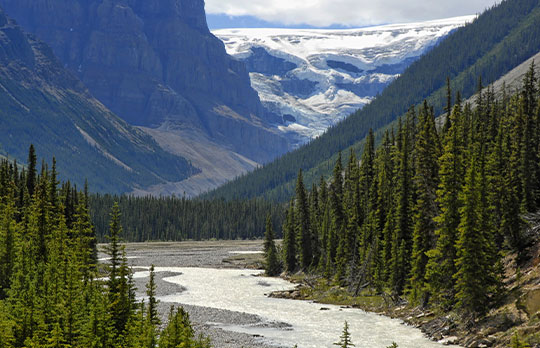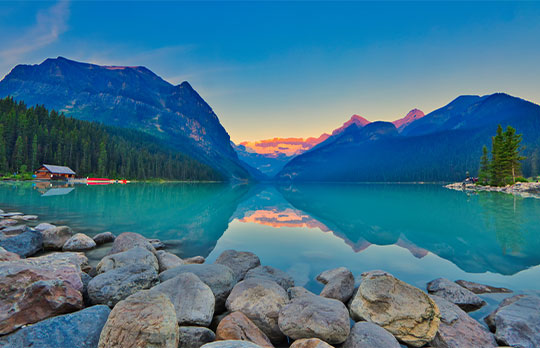 Dry Island Buffalo Jump
Just two hours up the road from Calgary along AB-21, Dry Island Buffalo Jump is a bit of a hidden gem amongst Alberta's provincial parks offering. And if you want to escape into stunning scenery for the day, it's pretty special. Situated near Trochu, it boasts beautiful views of the Red Deer river valley and hosts over 150 diverse bird species – including striking turkey vultures. You can kayak on the water, hike on romantic trails through woods and grasslands, and bring your own food for a picnic or BBQ – firepits are available. Dry Island Buffalo Jump isn't open overnight but there are more than enough exciting activities to make it a magnificent day trip.
Sundre
How does a quick one hour 25 minute scoot up Highway 22 from Calgary sound? Sundre is another welcoming town located between the prairies and Rockies – it's ideal for outdoor pursuits like biking, hiking, off-road vehicles and horse riding. A traditional homeland of the Blackfoot, Tsuu T'ina and Cree indigenous peoples for centuries, this bison country attracted ranchers of European extraction by the late 19th century and it's part of The Cowboy Trail. Its name is derived from 'Sondre' which means 'South' in Norwegian – thanks to the town's first postmaster, a certain Nels Hagen. The landscape is characterised by undulating fields and forests cut through by rivers and framed by majestic mountains. Join an indigenous guide on a Medicine Walk, hike Snake Hill Recreation Area, or relax in the unique Bergen Rocks Sculpture Park.
Lake Louise & Moraine Lake
2 hours from Calgary along the trans-Canada Highway (Highway 1) Lake Louise is one of Canada's most famous tourist attractions and once you arrive, you'll understand why. The iconic lake is world-famous for its serene turquoise waters that are topped up by glaciers gracing surrounding peaks. There's also an elegant chateau and hamlet bearing the same name. And for some locals and visitors alike, Moraine Lake as at least equally beautiful – located 14km from Lake Louise in the Valley of the Ten Peaks, its electric blue waters, surrounding mountains and fir-fringed shore make it one of the most photographed lakes on Earth. Canoe, swim, picnic, keep cosy with hot chocolate as you gather around pub fireplaces. Be warned though – you'll want to stay longer than one day.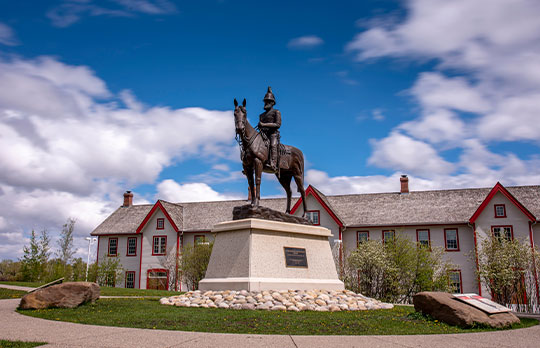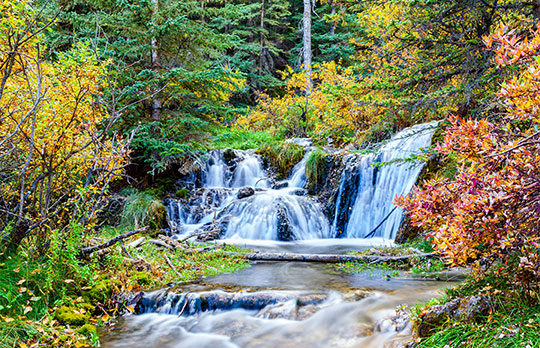 Dinosaur Provincial Park
Want to step back in time in some rather gigantic footprints? Get your motor running along AB-1 E for two and a half hours to Dinosaur Provincial Park. There's a ton of cool stuff to see when you get there. Check in at the visitor centre and staff will explain that this is Canada's largest Badlands area and one of the world's most important dinosaur fossil fields – you'll even see some dinosaur skeletons to whet your appetite for more. A UNESCO World Heritage site since 1979, it's always hosting fascinating palaeontology and research projects – the best way to see the most interesting spots is by booking an official tour in advance of your visit.
Fort MacLeod
Two hours and 10 minutes south of Calgary along Highway 2 S, Fort MacLeod is a fabulous day trip destination. This charming town hosts the South Country Fair, film festivals, antiques gatherings, nature parks and heritage sites. Not to mention excellent bars, restaurants and cafes. Top attractions include The Empress Theatre (first opened in 1912), and NWMP (North West Mounted Police) Fort Museum – the town was founded by the NWMP in 1912 to protect the area from US annexation and prevent the illicit trade in illegal American whiskey. As well as these hotspots, there's a lovely heritage downtown area and a gorgeous golf course.
Big Hills Spring Provincial Park
45 minutes north west of Calgary via AB-1 A W and Lochend Road, Big Hills Spring Provincial Park is a picture-perfect day trip destination. 10 km north of Cochrane on Highway 22, this stunning park in the Rocky Mountain foothills features a series of cascading springs and waterfalls that flow all year round over natural rocky terraces, surrounded by shrubs and greenery. If you love hiking, wildlife and the great outdoors, welcome home!
Rocky Mountain House National Historic Site
Two hours and 40 minutes north of Calgary via Highway 22, Rocky Mountain House National Historic Site features the rambling remains of four ancient fur trade forts, biking and hiking trails, herds of plains bison and lots of lush greenery. Located at Brierly Rapids on the North Saskatchewan River, it's designated a national historical site thanks to its important role in the historic fur trade and association with pioneer David Thompson and the Blackfoot Peoples.