10 Best Day Trips from Edmonton
Ukrainian Cultural Village
Bunchberry Meadows
Elk Island National Park
Sylvan Lake
Chickakoo Lake Recreation Area
Metis Crossing
Lacombe
Cooking Lake-Blackfoot Provincial Recreation Area
Jurassic Forest
Leduc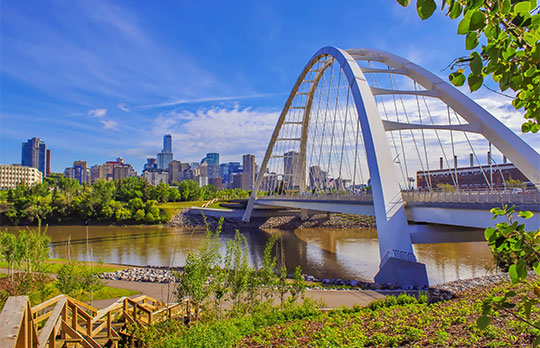 Top 10 scenic day trips from Edmonton
Located on the North Saskatchewan River, Edmonton is the capital of the province of Alberta and Canada's sixth-largest metropolitan area (with a population of over 1.4 million at the latest count). Known as 'the gateway to the north' and 'Canada's festival city', it boasts the second-largest mall in the whole of North America and Canada's biggest living history museum: Fort Edmonton Park. Humans have been hanging around this part of the planet since at least 3,000 BC and perhaps even earlier, while the first European explorer came along much later, in 1754 AD. Within a few decades, Fort Edmonton was founded as a vital trading hub for the Hudson Bay Company, built close to Fort Augustus, a base for its fierce rival the North West Company.
Nowadays, the modern city of Edmonton is often used as a launchpad for exploring Jasper National Park and Canada's wild north, but it's also being recognised as a destination in its own right, with an upgraded Downtown district featuring trendy shops and eateries, as well as the new Ice District, slates as the new art and entertainment capital. Meanwhile, another area you should definitely explore is Whyte Avenue and the university district, which is packed with intimate theatres and funky bars, infused by lively leftfield energy.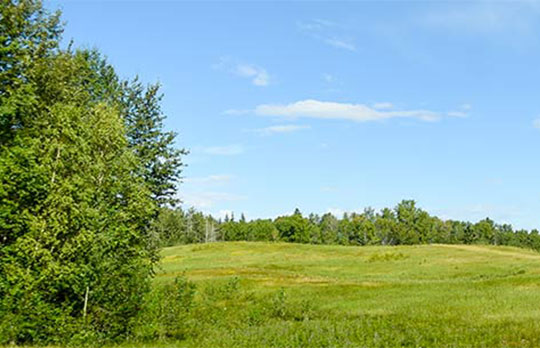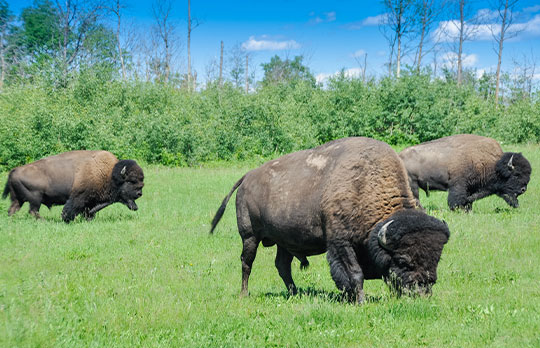 Getting prepared for your Edmonton day trips
We'll get started on your Edmonton day trips shortly but let's take a brief pause for some preparation tips for driving in and around the city as well as in the province of Alberta.
Because of its location, it's often rather chilly in Alberta, so there are a few things you should be aware of in order to stay safe and sound.
Firstly, even although all of these day trips are fairly short, it's still wise to pack an emergency pack containing an extra set of clothes and shoes, a warm blanket, snacks, a candle, first aid kit, ice scraper and snow shovel. You should also make sure that your tank is full of fuel (or your battery is charged) before you leave and also considering swapping your vehicle's regular tyres for winter replacements with deeper grooves and greater flexibility.
Drive smoothly and steadily, observe the speed limit and please be aware of wildlife on the road, especially in isolated rural areas (which Canada has lots of). In an emergency, dial 911.
Ukrainian Cultural Village
Just 25 minutes east of Edmonton city centre via Highway 16, the Ukrainian Cultural Heritage Village is an outstanding open-air museum that powerfully shares the story of the Ukrainians who settled en masse in east central Alberta province between 1892 and 1930. Take an official tour and interpreters in full traditional costume will lead activities and demonstrations that really allow you to take an immersive step back in time. By learning about everything from folklore to traditional food, you'll leave knowing much more about this interesting culture and, if you're of Ukrainian extraction, feeling much deeper connections to your roots.
Bunchberry Meadows
Want to get out into the great outdoors? The wonderful sounding Bunchberry Meadows Conservation area is just 40 minutes from Edmonton via Range Rd 261 and there's a whole bunch of stuff to do there – as well as a few berries too no doubt (although please don't eat them, just in case). Located in the Devon Dunes Environmentally Significant Area, Bunchberry Meadows boasts 8.68km of nature trails (mostly over flat terrain), onsite outhouses and picnic spots and wonderful wildlife like deer, moose, squirrels, hawks, owls and songbirds. The Devon Dunes were formed from sediments blown across from Lake Edmonton after the last ice age and harbour rare plant species.
Elk Island National Park
Just 37 minutes east of Edmonton via the AB-16, Elk Island National Park is a dynamic day trip destination you shouldn't miss. This natural wonderland is characterised by undulating hills, mirror lakes, vast prairies and big blue skies – it's a unique ecosystem that's a UNESCO-designated Biosphere Reserve. As well as wildlife like elk (naturally), bison and over 250 bird species, you can sit under the stars in the evening and see the northern lights of the Aurora Borealis tracing their chameleonic magic across the skies.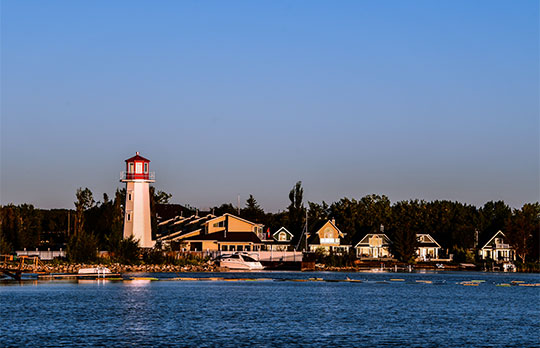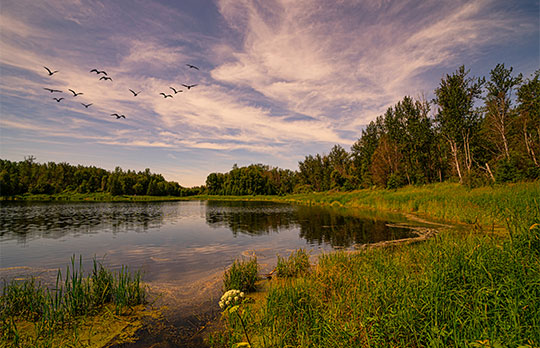 Sylvan Lake
Two hours from Edmonton via Highway 2 S, Sylvan Lake is another superb day trip spot. The freshwater lake itself is 15km long and sits across the border of Lacombe and Red Deer counties, while the town of Sylvan Lake sits on the lake's southeast fringe. You'll experience plenty of art, culture and nature in this charming town, with gatherings like Cobb's Night Market in the winter season, axe throwing, rodeo, ice skating, swimming, live music and much more. A Sylvan Lake day trip is manageable if you leave early, but you might have a more leisurely experience if you stay overnight.
Chickakoo Lake Recreation Area
50 minutes west of Edmonton along AB-16, Chikakoo Lake Recreation Area comprises 480 acres of woodland and a 14km network of scenic hiking, cycling and horseback riding trails (some of which are converted to well-groomed cross-country skiing trails in winter. The wildlife in this special place includes beavers, deer, moose and birds like ducks, geese and red-necked grebes. If you like making your way up hill and down dale amidst amazing natural scenery, this day trip has your name on it.
Metis Crossing
One and a half hours northeast of Edmonton on the Victoria Trail, Metis Crossing is a 512-acre complex that's Alberta's pioneering Metis cultural interpretive centre. The centre showcases lots of art and cultural artefacts from original Metis settlers and you can grab some hands-on experience creating authentic beadwork and crafts while you're there. For a day trip that's all about living history, this is hard to beat.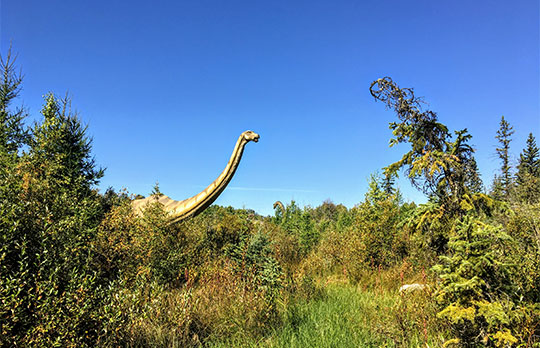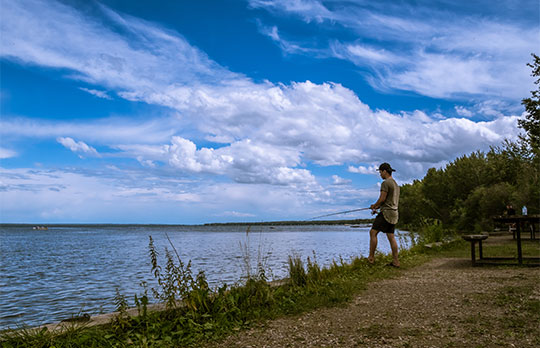 Lacombe
How does a one hour and 30 minute drive south from Alberta down Highway 2 S sound? It'll take you to lovely Lacombe where there's lots to see and do. Definitely make a beeline for Downtown Lacombe, which is packed with museums, galleries, restaurants and coffee shops (as well as some lovely, well-preserved historical architecture). This is also known as the mural capital of Alberta and there are indeed lots of excellent examples of large-scale street art to be seen. One other very unusual attraction is the world's largest fishing lure – located next to a nice little catch and release pond.
Cooking Lake-Blackfoot Provincial Recreation Area
56 minutes from Edmonton via the AB-16, Cooking Lake-Blackfoot Provincial Recreation Area is another exceptional day trip destination for anyone who loves outdoor adventures. Stick it on your itinerary if you appreciate activities like nature walks, trail running and hiking, kayaking (on Islet Lake) or wildlife viewing/birdwatching. There's also an 85km network of equestrian trails and, since this is part of the Beaver Hills Dark Sky Preserve, it's one of the best places in Canada to gaze at the stars.
Jurassic Forest
45 minutes from Edmonton via Manning Dr NW/AB-28A, Jurassic Forest is a must-see if you're travelling with dinosaur-obsessed kids (or are partial to a bit of prehistoric action yourself). As you wander around the wilderness on the boardwalk, you'll see life-sized animatronic dinosaurs like stegosaurus, triceratops, albertosaurus, and tyrannosaurus roaming around, grazing, growling and generally getting down like dinosaurs do. There's also an active learning park where young explorers can climb, run and slide around – as well as digging for dinosaur fossils. For a day trip that's both fun and educational, this is on point.
Leduc
55 minutes south of Edmonton via Calgary Trl and Highway 2 S, Leduc is the last, but by no means least, of our day trips. Conveniently situated close to the Edmonton International Airport, Leduc has lots of attractions, but the pride of the city is the Leduc Recreation Centre, which has a four lane running track, 8-rink curling area, cutting-edge gym, aquatic complex and 3 NHL-size ice rinks. But that's not all – there's also a well-appointed performing arts venue at Leduc Composite High School where you can catch concerts and community theatre, while outdoor enthusiasts appreciate the 60km of paved multiway trails across the city and the gorgeous green spaces at Telford Lake and William F. Lede Park.