Avis Car Rentals
Grab yourself a Avis car rental with EnjoyTravel.com
A great value and trusted partner.
Save a huge amount of money on car hire
Exclusive deals you won't find elsewhere
Find the best deal and book online


Avis car hire - Australia
Getting ready for your Aussie staycation?
Good on you!
When you think about it, Australia's got just about the best of everything the world has to offer – so there's no real need to venture anywhere else right now.
With year-round sunshine and beautiful beaches, mountains cloaked in pristine, powdery snow, lush tropical rainforests, iconic coral reefs, cosmopolitan cities and charming towns, there's plenty of eclectic entertainment and raw spirit packed into our vast land.
As you'll know fine well, one of the best ways to get around is by car – you can travel independently in your own social bubble, reach the parts the public transport system struggles with, and feel the freedom of the open road.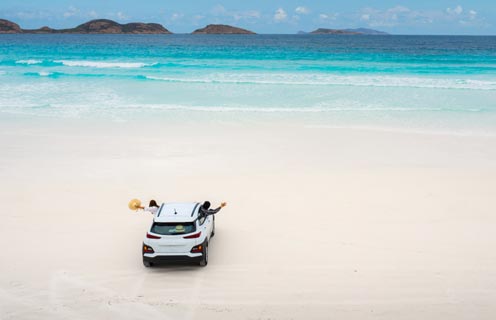 Booking your Australian car hire online with Enjoy Travel is easy and you can take care of it during your tea break – just don't dunk those Tim Tams for too long!
We work with a wide range of car rental partners, but household name Avis is definitely one of our favourites. Founded in Detroit by Air Force Officer Warren Avis in 1946 when the company opened the world's first airport car hire location at Willow Run Airport, this company has gone from strength to strength in the generations since.
With 11,000 locations in 180 countries, Avis knows how to satisfy customers in countless different cultures – including those right here in Oz!
More benefits of Aussie car hire from Avis
Let's get down to the nitty gritty of some practical benefits of Aussie car hire with Avis. Book with this brilliant company if you like the sound of:
Risk-free bookings with no cancellation fees up to 48 hours before collection.
The Avis Safety Pledge – contactless rental car pickup is available, with the Avis App digitizing your whole experience. Cars are cleaned according to stringent protocols by staff wearing head-to-toe PPE.
A range of handy pickup locations including Sydney, Melbourne, Brisbane and Perth Airports, city centre-downtown pickup spots and locations in smaller towns and settlements across Australia.
Massive range of vehicles including economy, compact, intermediate and standard models, as well as low-emission/EV models, SUV's, 4x4s, minibuses and luxury models.
Quality modern cars across all of Australia
FAQs about car hire with Avis
Most frequently asked questions about hiring a car with Avis
A Kia Rio is a popular compact car to rent Down Under.
A Toyota Camry is spacious enough for an average family.
Luxury models include the BMW X3, Mercedes-Benz GLA180 and BMW X1.
21 years old and a surcharge is usually applied if you're under 25.