Record Go Car Hire
Find the best Record Go deals with Enjoy
Cheap car hire across Alicante, Malaga, Barcelona, Madrid, Majorca, Ibiza, Seville, Marbella, Costa Del Sol, Benidorm and more.
Massive range of hire cars across Spain
All major Spanish cities and resorts
Enourmous savings of up to 70%


About Record Go
Spain is a magnet for tourists from all around the world and an amazing destination to explore by car.
So as you'd expect, the car hire sector here is ultra-competitive and a lot of big players are keen to get their slice of the action.
However, since it first started operating as an independent entity in 2005, Record Go rent-a-car has grown surely but steadily into a multi-location Spanish car hire provider serving hotspots like Malaga, Barcelona, Valencia, Seville, Alicante, Ibiza and Palma de Majorca.
The beautiful beaches, verdant valleys and dramatic mountainous terrains in Spain make it a magnificent place to visit and with Record Go you can choose the ideal vehicle to meet your needs. For instance, you might feel comfortable nipping around town in a bijou Ford Ka, a Ford Focus C-Max is a little roomier for road trips and a Fiat 500C lounge convertible is ideal for cruising along the coast with the wind in your hair.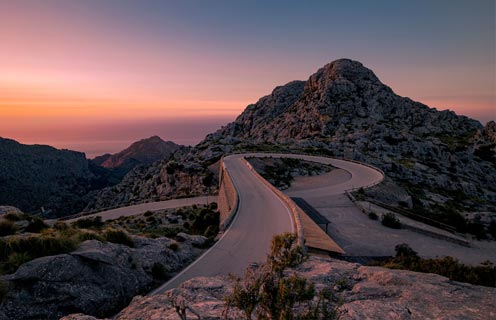 Cheap car hire prices with Record Go
If you want cheap car hire prices (we're talking daily prices lower than the price of a cup of coffee in the UK in some cases!) and a firm focus on quality and customer care, Record Go rent-a-car are definitely worth your consideration.
In fact during the summer, EnjoyTravel.com in partnership with RecordGo received quite a bit of media coverage for their astonishingly low priced car hire across Spain.
Why choose Record Go car hire with Enjoy Travel?
Still swithering about whether to opt for Record Go for your Spanish car hire?
The following features should seal the deal:
Very low (often unbeatable) car hire prices in Spain.
Free cancellation up to 48 hours prior to collection.
Theft protection and 24-hour assistance.
Huge discounts for booking in advance rather than renting a car on the day.
Fair, full to fuel policy or alternatively, the option to pay the company to refuel the vehicle.
Rental available to under 25s and surcharge incorporated in quoted price.
Off-airport car hire provider but locations are on perimeter of airports, accessible via frequent shuttle buses or a brief stroll.
As you can see, there are multiple reasons why you should try Record Go the next time you're looking for cheap but trusted car hire in Spain.
Enjoy Travel always aims to put the best choice of car rental providers in any location at your fingertips, therefore we're proud to partner with challenger companies like Record Go as well as with long-established global competitors.
Record Go - Pricing Statistics
The table is here to give you a guide on the average prices you ight expect based on Record Go cars sold by Enjoy in the last 12 months. They may not reflect the current pricing, since prices are set by Record Go and subject to change based on the lead time and demand at the time of searching:
The locations in this table are some of Enjoy's most popular can rental destinations when customers booked a Record Go car with us.
Enjoy Travel & Record Go ̶ Your Spanish Car Hire Double-Whammy
Here are some handy hints about cheap car hire with Record Go
The most popular car is a Ford Fiesta, with an average price of £3.52 per day, but the cheapest price recorded was 9p a day
Yes you read it correctly, 9p a day. This rental happened in Malaga in September but there have been many more for under £1/day too.
The Ford Ka is also very popular, with an average daily price of £1.92 and the cheapest we recorded was 12p a day.
The Ford Focus is the most popular compact car, at £3.81 average per day, but for only a little bit more you could upgrade to a Nissan Qashqai.
By booking a car 2 weeks before the travel date, our customers saved a huge 65% off the price.
Whereas customers of Enjoy Travel who were able to commit a month in advance of travel saved a whopper 88% off the price.
When you want cracking car hire in Spain, Record Go should get you revved up and raring to go!
FAQs about car hire with Record Go
Most frequently asked questions about hiring a car with Record Go
The average price of a Record Go car with Enjoy across the whole of Spain is £4.87 per day (very cheap).
Record Go provide car hire across all of Spain and the Balearics, the most popular places sold on Enjoy are: Palma de Mallorca Airport, Malaga Airport, Ibiza Airport, Alicante Airport, Barcelona Sants Railway Station, Madrid Atocha Railway Station, Barcelona Airport, Valencia Airport, Madrid Airport, Seville Airport, Menorca Airport and Bilbao Airport.
Sat-navs and any type of extras can be included by adding a small fee.
Record Go have recorded some extremenly prices during the last 12 months, the cheapest we have on record has been 1p per day! This was for a 2 week rental in Majorca, in November.
Yes, all Record Go cars include air-con.
Record Go have a wide variety of cars that offer quality and comfort.
Record Go is amongst the cheapest car rental providers in Spain. In September they made the headlines for selling rental cars from as low as 9p a day.
Record Go are an car hire company in Spain, covering the majority of Spanish airport and cities and generally offering very competitive prices.
The Ford Fiesta is the most popular car with Record Go in the Spanish mainland, whereas the Ford Ka is most popular in the Balearic Islands.
A range of family cars are available with Record Go too, on our Enjoy website the most popular in order are: Ford Focus, Nissan QashQai, Mercedes GLA, Seat Leon.
Record Go are operating in almost all the major Spanish cities and airports including Alicante, Barcelona, Bilbao, Madrid, Malaga, Seville, Valencia, Ibiza, Majorca and Menorca.
Record Go are operating in almost Spain and the Balearic Islands.
A car in Palma de Mallorca with cost you on average around £4 per day if you book in advance. You may get it cheaper depending on the demand when you book, but it would also be more expensive.
A car in Alicante will normally cost you, on average, a little over £4 a day, depending on the time of year and how far in advance you book.