Looking for cheap and reliable car hire in London Kennington?
You've found it – Enjoy Car Hire can find you the best deals in town in a flash and is Rated Excellent with a 4.7 out of 5 score on Trustpilot.
Located in the Borough of Lambeth in South London, Kennington is just 1.4 miles south of Charing Cross in Inner London and was a royal manor in the Parish of St Mary, Lambeth.
Incorporated into London's metropolitan area in 1855, this leafy SE11 area is a wonderful place to visit.
The Oval Cricket Ground
Here are some Kennington highlights for you to explore while you're in town:
Visit the Kia Oval, iconic home of Surrey County Cricket Club and host venue for many major international cricket matches.
Spend time tree bathing in the lovely Kennington Park – there's a Grade II-listed area and an extension to the east which was added in the 1960s. Whether you like football, tennis or simply sitting under a tree and enjoying a picnic, this is the place to people watch.
The Imperial War Museum is always an interesting place to stroll around. It had a major refurbishment in 2014 to spruce it up for the centenary of the start of WW I and you'll see artefacts from every major conflict – there's even a Harrier GR9 jump-jet aircraft hanging from the ceiling!
Beefeater Distillery is a brilliant place for gin fans to visit. This is the oldest gin distillery in London and you can get in the spirit on a self-guided tour with a refreshing G&T included in the ticket price.
Korean food fans can tuck into tasty dishes like pork and veg mandu dumplings and authentic fried chicken at Jihwaja at 353 Kennington Lane – delicious!
Car Hire Operators - London Kennington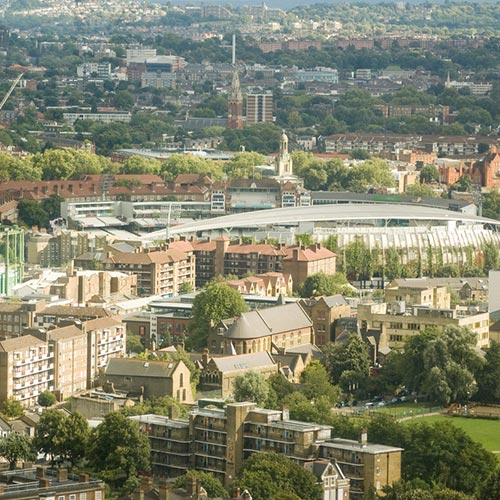 There are several trusted car hire operators at London Kennington who can kick-start your trip with no trouble at all.
Here are some of the most popular choices:
With EnjoyTravel.com, renting a car at London Kennington that meets your needs is easy – simply enter your details, hit 'search' and choose the best package in a matter of minutes.
About London Kennington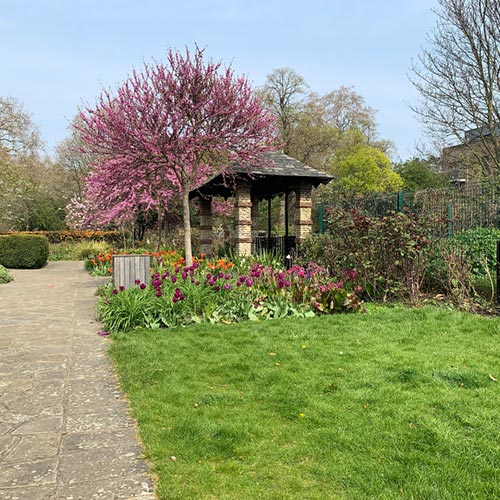 Kennington is a London district in the Lambeth borough in the south of London, with Waterloo a mile to the north, the Thames running to the west and Westminster just across the river.
The Oval
Home to the Oval Cricket ground, an international cricket ground, also known as "the Kia Oval", which has been home to Surrey County Cricket Club since it was opened in 1845.
Transport in Kennington
There are numerous underground stations and stops in and around the Kennington area. The Northern Line (black) runs directly through and beneath Kennington, with Kennington Underground Station centrally located on the main Kennington High Street. To the south also on the Northern Line is The Oval underground station, adjacent to the Oval Cricket Ground.
A little further to the west, towards the river is the main underground and overground train station of Vauxhall on the Victoria Line 9blue) connecting with Victoria, Central London and Kings Cross to the north.
Kennington Park
Previously known as Kennington Common, Kennington Park was opened in 1854. Prior to 1800 Kennington Common was a site used for public executions, and up to 1724 it was one of the earliest London cricket grounds. The first pleasure gardens were laid out in 1661. To the modern day the park is a popular with joggers, dog walkers, and with locals who want to lay out on the grass and relax in the summer London sun.
Eating Out in Kennington
Being in London, close to the river and iconic London areas like Westminster and Waterloo only a few tube stops away, Kennington as you would expect isn't short of places to eat out.
Here's a few Kennington top options to tantilise your taste buds:
Kuma Korean & Japanese: This popular and highly rated Japanese restaurant is serving a range of fresh and authentic Japanese and Korean dishes such as Gokubuto noodles with soy, katsuobushi, sesame based sauce topped with bamboo shoots, spring onions, Japanese pickle, nori, egg & with a choice of different meat, prawns and chicken. Address: 305 Kennington Rd, Prince's, London SE11 4QE
Cocos Bar & Kitchen: An independently owned Bar & Kitchen in the centre of Kennington, Set up in 2018 by Kirk and Nicci Ellis to showcase their love for quality, tasty cuisine and cooking creativity. The modern style menu includes a range of dishes from breakfast, brunch and lunch to dinner as well as cocktails. Check out cocos classic 8oz angus burger or jerk chicken, rice & peas, with cocos signature jerk bbq sauce, or howabout something from the plant based section of the menu like grilled spiced aubergines filled with cashew cream? Address: 238 Kennington Park Road, London SE11 4DA.
Amici Mediterranean Bar, Grill & Delicatessen: A selection of traditional Mediterranean, easy going environment and indoor and outdoor tables. Address: 205-209 Kennington Ln, Oval, London SE11 5QS.
What to do in Kennington and nearby
Kennington is well-located for easy access to some of London's most classical areas, being just to the south of the Thames river and spanning from the top of South Lambeth in the south to Waterloo in the north, Pimlico to the west and Walworth to the east.
From the Oval or Kennington station, you can hop on the Northern line (black one) and be in central London in 5 or 6 tube stops.
Northern Line - Get off at Leicester Square and you're surrounded by some of London's most popular shopping and eating areas like Covent Garden, Chinatown and the Westend.
Victoria Line - Head south on the Northern line for 1 stop, change at Stockwell and you're on the Victoria Line. From here you can access St James Park and Westminster and be in the heart of London's most iconic landmarks such as Big Ben, the House of Parliament, Westminster Abbey and the Palace of Westminster.
Battersea Park: 2 miles from Kennington, so a pleasant walk or short taxi ride, is Battersea Park, a 200-acre Victorian Park that was built between 1854 and 1870. Features of the park include a riverside promenade, a large lake, childrens zoo, play areas, a band stand, sports facilities, nature areas and unique Peace Pagoda monument.
London Bridge: Just 3 stops north on the Northern Line is London Bridge, one of London's most famous landmarks and internationally recognised bridges. London Bridge is commonly believed to have evolved from its origin during the Roman Times, when it was original constructed by wood to provide crossing over the Thames. For 600 years during medieval Britain between the 14th to 19th centuries, a stone construction bridge was in its place. This was superceded in the 19th century by a stone arched bridge in the 19th century, and ultimate replaced by a steel and concrete construction which opened to traffic in 1973. The London Bridge area is packed with popular, traditional and modern bars and restaurants.
Got a Question? Chat with our UK support team
Online chat help is open 08:30am to 17:00 weekdays. Email: customersupport@enjoycarhire.com
FAQs about car hire in London Kennington
Most frequently asked questions about hiring a car in London Kennington
For an economy car prices average around £23 per day, but it depends on various factors such as the time of year and how far in advance you book.
If you are happy travelling out of Kennington itself, just a couple of tube stops away in Pimlico you'll find Easirent who offer a contactless collection system meaning no queues and low cost car hire rates starting from £9 a day.
By booking on Enjoy you can compare all the different deals and find the lowest price. Generally, the further ahead you book, the better the discount so try and book in advance where you can.
The Elephant and Castle to the north of Kennington and the Oval for the Oval.
The A3 main road runs through the centre of Kennington, so its quite easily accessible via the M25, M4 and M3 motorways, also the M23/A23 coming from Gatwick.
Heathrow and Gatwick are both accessible, you'll need to then either access the train and tube network or you could hire a car. Heathrow is the closer of the 2 main London airports.
Its 21 miles and around about an hour depending on the traffic, you can pick up a hire car right by all of the Heathrow terminals, head east on the M4 towards London and then pick up signs.
Kennington is a London district in the Lambeth borough in the south of London, with the river Thames to the west and Waterloo to the north.
Kennington to Gatwick airport is 27 miles, whilst Heathrow is 17.5 miles. The closest of the London airports to Kennington is London City airport (LCY) at just under 9 miles.
The Northern Line (black) goes through the centre of Kennington stopping off at Kennington and The Oval, connecting with Kings Cross, London Bridge and Monument.
Popular London places, London airports, train and underground stations