Belfast City Airport Car Hire
Find the best deals in Belfast City Airport
With a massive choice from the biggest brands, Enjoy the best way to find the best prices for car hire in Belfast City Airport.
Huge choice of cars to suit every budget
Save up to 70% compared to buying on the day
10 years experience in car hire


Compare Car Hire at Belfast City Airport BHD
Located in Country Down, George Best Belfast City Airport (BHD) sits next to the Port of Belfast and is 5km from Belfast city centre. BHD processes around 2.4 million passengers annually, mostly offers routes between different UK cities and it's a convenient gateway to the Northern Irish capital for businesspeople and pleasure seekers alike. This constituent nation of the UK is small in size but packs a mighty punch when it comes to attractions ̶ you'll find everything here from Game of Thrones filming locations to bustling markets, majestic mountains to castellated cities and verdant forests to museums showcasing the region's proud engineering history. A trip to Belfast brings all the attractions of a vibrant modern metropolis with a rich, complex cultural tapestry and charming countryside a stone's throw away. Belfast and Northern Ireland are made for exploring on four wheels and no one's better placed than Enjoy Travel to find you a brilliant Belfast City Airport car hire deal. For instance, a nippy economy car like a Vauxhall Corsa costs £19.64 (€21.69) per day if you book off-season, a Ford Kuga SUV costs £26.44 (€29.21) a day and a roomy Vauxhall Insignia saloon ̶ which seats five comfortably and is ideal for hitting the open road ̶ is £29.08 (€32.12) per day. Enjoytravel.com works with top car hire providers at George Best Belfast City Airport like Green Motion, Enterprise and Alamo, so you can hit the road in Northern Ireland with complete confidence.
Originally known as Sydenham Airport, BHD first opened in 1938 with a maiden flight to Glasgow and was taken over by the Royal Navy during WWII. It was extended during the 1950s and shifted its focus to commercial travel from 1983 onwards ̶ at that point it was known as Belfast Harbour Airport and subsequently became Belfast City Airport. A new terminal opened in 2001, it was named George Best Belfast City Airport in honour of the late, great, football superstar in 2006 and its major carriers now include Aer Lingus, British Airways, Eastern Airways and Loganair, with destinations including London Heathrow, Birmingham, Edinburgh, Leeds-Bradford, Manchester, Southampton, Aberdeen, Glasgow and Amsterdam.
If you're not familiar with Northern Irish legend George Best, here's a brief summary ̶ known as 'The Fifth Beatle' because of his fame and fast lifestyle in his 60s heyday, he was 17 when he first debuted for Manchester United, had won the European Player of the Year Award by the time he was 22 and along with Man United stablemates like Sir Bobby Charlton and Denis Law, was part of the first English team to win the European Cup in 1968 (Glasgow giants Celtic had won the same trophy the previous year, becoming the first Scottish and British holders). A Northern Ireland international, there's no doubt that had he played for a stronger national team he would have won global honours ̶ in fact, Brazilian ace Pele believed Best was the greatest footballer ever!
Facilities at Belfast City Airport include an environmentally-friendly free water fountain where you can fill up your recyclable water bottles to stay hydrated, the Alpha Luxury Furniture Hub where you can relax using the elegant, ergonomic seating, catch up with emails and charge up your electronic devices using the USB hubs, ATM machines, toilets and baby changing facilities and free Wi-Fi throughout.
If you're peckish at BHD, you can choose from outlets like Starbucks, St George's Restaurant and Deli, and The Artisan, which serves tapas, main meals and light snacks. Meanwhile, if you can't wait to hit the shops, you'll find a WH Smith and expansive Duty-Free outlet here.
To find out more about driving in Belfast and things to do in this cool city, read on!
Driving around Belfast City Airport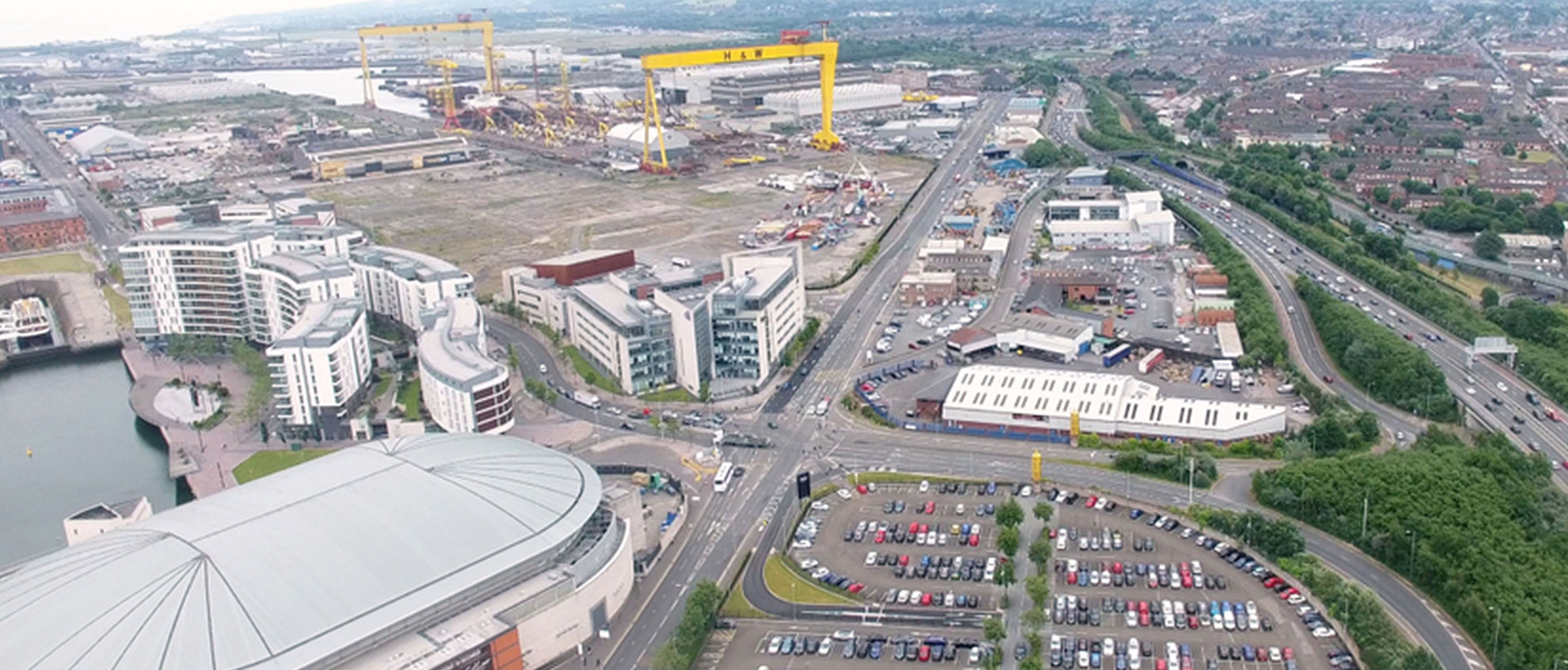 Belfast city centre is a short hop from BHD and it's clearly signposted, but you can turn on your Satnav if your vehicle has one, but you can also tune your radio into Q Radio on 96.7 FM for the latest news, traffic reports and tunes.
You should always drive on the left in Belfast and throughout the UK. Speed limits are 70 mph (120 km/h) for motorways, 60 mph (100 km/h) on non-motorway main roads and 30 mph (50 km/h) for 20 mph (40 km/h) if you're in built-up city centre areas or in close vicinity to schools.
If you drive carefully and courteously in Northern Ireland you're off to a good start, but some of the rules of the road and driving conventions might differ from what you're used to ̶ here's some useful advice:
Please be certain whether you're driving a BHD hire car that's petrol or diesel as using the wrong fuel will cause a calamity. In Belfast, Northern Ireland and throughout the UK, petrol fuel pumps are indicated by green signage and diesel by black. Most petrol stations nationwide here open between the hours of 8am – 10pm and many (especially in or near cities like Belfast) are open 24 hours a day.
Drink driving is prohibited here and apart from the dangers it poses to you and your passengers, it puts the lives of other road users at risk. Please also be careful about driving the day after you've consumed alcohol, as it can still be in your system at levels which impair your judgement.
Some drivers visiting Northern Ireland prefer automatic rather than manual transmission vehicles because the undulating countryside, rural roads and obstacles like livestock mean that automatics are easier to handle.
Not all visitors require an international drivers license (for example, national licenses are fine for US visitors) but if you're not sure about your home nation, please check the relevant sections of gov.uk for advice.
The easiest way to park in cities like Belfast is probably finding a multi-storey parking facility. It's possible to find kerbside parking in the city but please be aware that you'll usually have to 'pay & display' ̶ buy a ticket from a roadside meter and display it clearly inside your windscreen.
Follow these simple tips and you'll have a terrific driving experience in northern Ireland.
A useful guide to Belfast and Northern Ireland for BHD car hire customers
Whether you're staying exclusively in Belfast or exploring the rest of Northern Ireland (and perhaps even the neighbouring republic of Ireland) you're sure to have a grand time. If you haven't been before, here are some of the awesome attractions:
There are several Game of Thrones locations in Northern Ireland and if you're a fan of the TV hit, you can roll out and visit them all. For instance, Downhill Beach and Portstewart Strand in County Derry served as the shores of Dragonstone and the Coast of Dorne respectively, Glenariff in the Glens of Antrim became Runestone, and Pollnagollum Cave in County Fermanagh was Beric Dondarrion's hideout.
St George's Market is located bang in the heart of Belfast and it's the last Victorian market of its kind in the city. You'll find over 300 traders here selling everything from local craftwork to food and fashion, so if you've got an eye for a bargain and enjoy haggling over prices to make the most of your budget, you'll be able to treat yourself to something special here as well as bagging bargains for friends and family.
Feeling energetic? Slieve Binnian in County Down is one of the Mourne Mountains and at 747 metres, it's Northern Ireland's third-highest peak. Regarded by many as the most beautiful mountain in the country, the views over the rugged lunar landscape are legendary and although it's classed as an intermediate level hike, it'll still take around seven hours at a decent pace, so you'll have to be reasonably fit and of course, be prepared with the appropriate footwear, clothing, plenty of water and nutritious snacks, a fully charged phone, map and compass.
If you're a history buff, don't miss Carrickfergus Castle in Country Antrim. This is Northern Ireland's most famous castle and is remarkably well-preserved ̶ especially given that the Scots, French, Irish and English have laid siege to it over its long and tumultuous history. If you want to imagine what Medieval life was like in this area, a visit to Carrickfergus is a must and it's very close to Belfast.
It's evident that George Best Belfast City Airport is a prime portal to the delights of Belfast and the rest of Northern Ireland. With Enjoy Travel, you can click and pick online, collect when you land and head off on your adventure!
Got a Question? Chat with our UK support team
Online chat help is open 08:30am to 17:00 weekdays. Email: customersupport@enjoycarhire.com
COVID CLEAN & SAFE PLEDGE
FAQs about car hire in Belfast City Airport
Most frequently asked questions about hiring a car in Belfast George Best Airport
Car hire price in Belfast City Airport BHD start from £65 per day for an economy car.
Car hire companies like Easirent, Keddy Alamo and Europcar offer a wide variety of affordable car-rentals.
Trains leave from Sydenham train station with connections available at Great Victoria Street station and Central station.