Pisa Car Hire
Find the best deals in Pisa
With a massive choice from the biggest brands, Enjoy the best way to find the best prices for car hire in Pisa.
Huge choice of cars to suit every budget
Save up to 70% compared to buying on the day
10 years experience in car hire


Compare Car Hire in Pisa
Pisa is the capital of the Province of Pisa, situated in the region of Tuscany, Italy. It is a beautiful and historic city with plenty to see and do, from the gorgeous Battistero to tucking in to some delicious food at any of the brilliant restaurants on offer. Pisa is a wonderful place to visit all year long, but in the warmer months it is certainly a sight to behold.
The most famous part of Pisa is an architectural project gone wrong, otherwise known as the Tower of Pisa, famously leaning to the side. Any visit to the Leaning Tower is going to a busy one, with plenty of tourists getting the popular photo of holding their hands up so that in the picture they look as if they are holding up the tower itself. It might be overdone and a bit cheesy, but it's still a classic shot – feel free to get one for yourself while you are there!
Pisa International Airport, otherwise and officially referred to as the Pisa Galileo Galilei International, is only 1 kilometre away from Pisa's city centre. It is one of the two primary airports in Italy's Tuscany region, and it boasts over 5 million passengers flying in or out annually. The alternative name for the airport is taken from the famous Galileo Galilei, the scientist who once called Pisa his home.
Guide to Pisa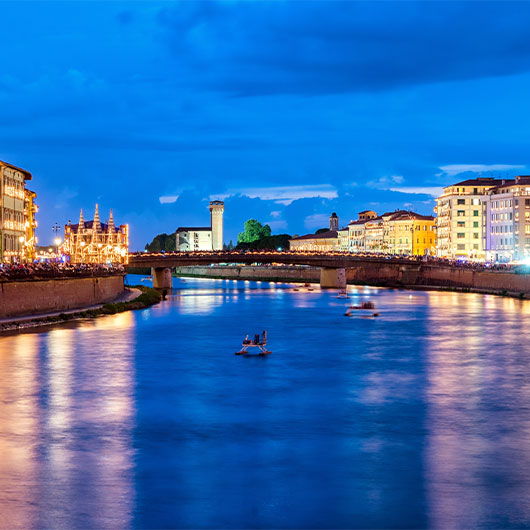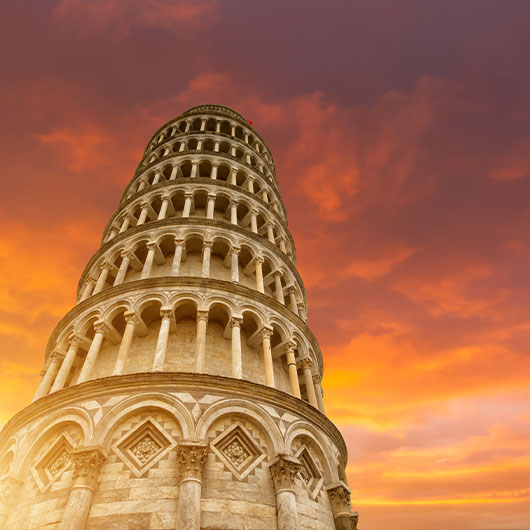 Any guide to Pisa would be remiss without telling you all the important things to know about the Leaning Tower, just like your holiday to the area would be remiss without a visit. Whether you just want to be there to say you've seen it and get one of the classic photos, or you're interested in getting inside and seeing the view from the top, there's plenty to be said about this symbolic building. Found in Piazza dei Miracoli, the tower was built over the 12th and 13th centuries, and innumerable architects have attempted to straighten it over the years to no avail. Book a tour of the tower to get all the fascinating information about its construction and its longevity, as well as a chance to climb nearly 300 stairs to enjoy a spectacular view. Be sure to book in advance, as there is a limit on how many people can be in the tower at any given time.
Square of Miracles
Piazza dei Miracoli, which translates to the Square of Miracles, is home to three other gorgeous works of architecture and is consequently an area steeped in history and culture. Alongside the Leaning Tower, a visit to this Piazza will reward you with the sights of the Duomo, the Baptistery, and the Camposanto. The Duomo di Pisa is a Church in the middle of the square, and it is beautiful both inside and out. The décor inside consists of fresco paintings from the 15th century, and a lot of the inner spaces have eastern influences that leave them resembling a mosque. Have a look inside to see inimitable works of art like Vicino da Pistoai's 'Vergine Maria'.
June is a wonderful time to visit Pisa, as this is the time of Pisa's annual celebration of their patron saint San Ranieri. The city will be alive with traditional celebrations during the Giugno Pisano, with the breathtaking Luminara of San Ranieri showcasing Pisa by candle light, the Regatta promising an impressive feast day of festivities, and the Battle of the Bridge game proving an unforgettable sight. Preparations for all of these events take place throughout the year, making the celebrations themselves memorable and well worth the visit if you're able to see them while they're on. If you do plan to check them out, be sure to book your hotel and other transportation well in advance, as it is an understandably popular time to visit.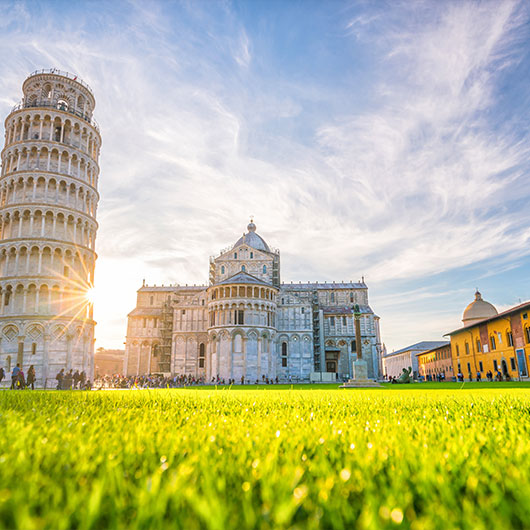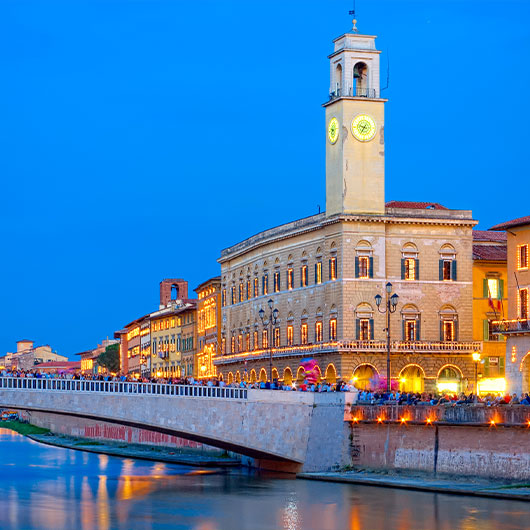 Pisa Road Tips
Some rules of the road
To drive in Italy you are required to acquire an International Driving Permit (IDP), and will also need to carry your driving licence. It can cost as little as £8.50 or $15 to get one, so thankfully it won't put a big dent in the rest of your holiday budget. An IDP is not crucial to hiring a car, but if you get pulled over you will be asked for one, so it is always better to be safe than sorry.
You must drive on the right hand side of the road, and you must always carry reflective safety vests that are to be worn if you ever need to be standing on the side of the road with your car – when it has broken down, or changing a flat tire, for example.
Italian speed limits are strictly enforced, and it isn't seen as a viable excuse to say that you're a foreign driver who isn't used to driving in the country, so be sure to keep an eye out for all speed limit signage. Generally speaking, highways tend to have a speed limit of 130 km per hour (80 mph), and have a speed limit of 50 km per hour (31 mph) on smaller roads.
It is a requirement to always have your headlights on, whether it is day or night. If you have a newer car, it is likely that they will have daytime running lights, but be sure to turn them on manually if this is not the case with your rental car.




Eating Out in Pisa

Osteria i Santi is right by the Leaning Tower of Pisa, making it the perfect choice for you to have a bite to eat just after capturing the perfect picture of your holding it up. Great for diners on a budget, this restaurant nevertheless offers tasty food with lovely service. Osteria i Santi has all of the Italian classics that every tourist will desire, so be sure to check it out if you are going to be anywhere near the Leaning Tower (which you certainly should be!).

Spaghetteria Alle Bandierine has a clue in its name – it is a winning destination for all things spaghetti. A favourite amongst both visitors and locals, anyone that has been is sure to offer high praise and an encouragement that you must go. It is only open in the evening for dinner, but it certainly remains a winner. With charming décor and family values, this is one not to miss, with set menus ready for you to enjoy their varied spaghetti dishes at great prices.

Osteria di Culegna is an underrated gem to lookout for, especially if you are keen to go somewhere that is less tourist-focused and instead provides an authentic taste of Italy. The menu has been created by the owner, who prides herself on avoiding the clichés of what Italian cuisine has become globally. Go to try something new and find a new favourite, and enjoy the charming atmosphere and friendly service.

Osteria del Proton Rosso is ready to provide for your seafood cravings, one that you might miss if you do not know where to look. Hidden on a back street, it nevertheless is an enticing choice and has very helpful staff ready to make superb recommendations both on the food and the wine list that will perfectly complement your selections. It is another restaurant that comes highly recommended, and when you visit it is clear to see why.

La Spigolatrice makes sure that you can visit Pisa without missing out on exactly what many people are looking for – delicious pizza. With a menu that won't break your budget while still offering a variety of tasty toppings to please everyone in the group, the simplicity of this restaurant is its winning quality. La Spigolatrice is like Osteria di Culegna in that it isn't one of the main tourist hotspots, meaning you will likely have a much more relaxed atmosphere and be able to enjoy the same gorgeous food as the locals.

Airports in Pisa

Pisa International Airport has a dedicated Car Rentals Terminal, helpfully found only a five minute walk away from the passenger terminal. Alternatively, shuttle buses are provided if you have too much luggage or would just prefer to be taken directly to it. It is home to eleven car hire agencies, ensuring that you have the choice that allows for a sensible decision to be made in regards to your requirements and your budget. The car hire agencies available at the airport are; Advantage, Goldcar, Avis, Europcar, Sixt, Hertz, Liberty Rent International, Centauro, National, Budget and Maggiore. The combination of globally popular agencies and local offerings helps you find exactly what you need. Hiring a car in advance will help save you money, and having a hire car allows you to explore not only all the wonders of Pisa itself, but also neighbouring cities like Florence and Lucca.
Got a Question? Chat with our UK support team
Online chat help is open 08:30am to 17:00 weekdays. Email: customersupport@enjoycarhire.com
COVID CLEAN & SAFE PLEDGE
FAQs about car hire in Pisa
Most frequently asked questions about hiring a car in Pisa
Europcar and Alamo are two car hire agencies in Pisa that attract high ratings and are frequently used, and Budget can be found at the Pisa International Airport car rental stand near the passengers terminal.
The average price of car hire in Pisa is €18 per day (£16 per day).
The car hire company in Pisa that can be found offering the lowest prices Centauro, with prices as low as €3.00 (£2.60) per day.
Pisa is a very touristic city of Italy which makes it also quite expensive. On average you'll spend €96 per day.
The average price of car hire in Pisa is €18 per day (£16 per day).
Every trip in Pisa must include or begin with a visit to the Leaning Tower of Pisa. After that you can move around exploring Piazza dei Miracoli, Pisa Cathedral, Baptistery of Pisa and the Ancient walls of Pisa.
The best months for good weather in Pisa are April, May, June, July, August, September and October. On average, the warmest months are July and August. The coldest months are January and February.
It's €39 for a week, which means more or less €6 a day.
The cheapest car hire will be around €1162, or €38 per day.
The average price of a litre of fuel in Pisa can vary between EUR 1.45 and EUR 1.25.
Explore popular places in Italy