Belfast International Airport Parking
Find the best parking deals at Belfast International Airport
With a massive choice from the biggest brands, Enjoy the best way to find the best prices for car hire in Belfast International Airport.
Huge choice car parks to suit every budget
Save up to 70% compared to buying on the day
Working with the best partners in Airport Parking
Airport Parking at Belfast International
skies from Belfast International soon and need to find parking? Grab a cuppa and a some biccies – all the info you need is coming right up.
Between its ample parking and fab facilities, Belfast International Airport (BFS) is a top-notch air hub. And that's exactly what such a cracking city deserves. The capital city of Northern Ireland and the UK's 12th-biggest, Belfast gets its name from the Irish Gaelic 'Beal Feirste', which means 'mouth of the sand bank ford'. Bit of a mouthful really so it's grand that they shortened it! And this grand old city also earned the moniker 'Linenopolis' in the 19th century because of its status as a centre of Irish linen production. Another famous industry was shipbuilding – at one point, the Harland and Wolff shipyard (that built the famously ill-fated RMS Titanic) was the largest in the world.
The thirty years of The Troubles (from the late 60s to late 90s) rocked the city and its populace but the fact that its communities have worked so hard together since then to build bridges and reclaim Belfast's position as an open, creative, industrious city, is testament to the special character of people from this part of the world. Titanic Belfast is one of the main tourist draws here – a cutting-edge multimedia museum that powerfully brings the tragic story of the famous ship alive. And this is a terrific place to let your hair down on a big night out. From raucous pubs with legendary craic, to cool, contemporary cocktail bars and bouncing nightclubs, there's something for everyone – including a vibesy live music scene with everything from lads with guitars belting out 90s Indie hits to jazz, blues and traditional Irish music. If you're a foodie meanwhile, you won't be disappointed either. There's something to satisfy every palate, from field- and ocean-fresh meat and seafood to international fusion food and local delicacies, the culinary scene is broad and deep. You also get a cracking pint of the black stuff here to wash it all down with. Cheers!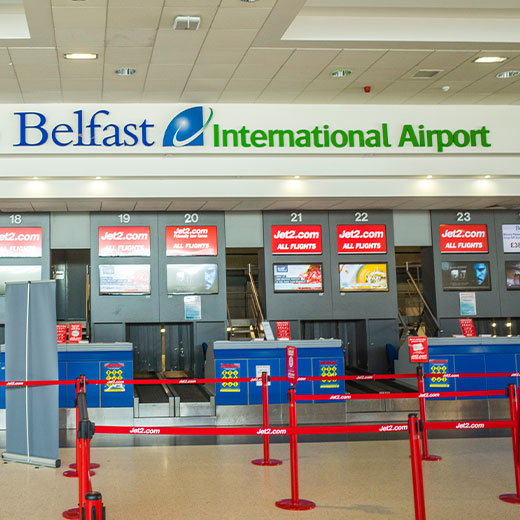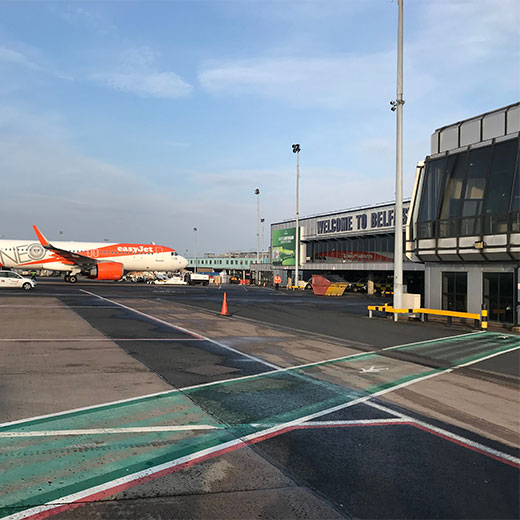 Find the best deals at Belfast International Airport
11.5 nautical miles from the city centre, Belfast International Airport (BFS) is the main airport for the Northern Irish capital and was actually named Aldergrove Airport until 1983. A major hub for easyJet, this busy place processes around 5 million passengers annually. The airport's history stretches back to 1917, when it was used as a Royal Flying Corps training centre for the remainder of WWI and stayed open for use by the RAF afterwards. Civilian flights to destinations in Scotland and England started in 1922, it was a centre for the Coastal Command during WWII, and it expanded from the 1960s to present with the addition of international flights to Europe and North America.
Wherever you're jetting off to from BFS, we'll soon get you sorted with the most appropriate airport parking choices.
.
Compare Belfast International Airport Parking
So what kind of BFS parking do you fancy? Or rather, what do you really need? Because the right type of parking for your unique requirements depends on the type of trip your taking and the makeup of your group.
A fast and customised option close by the terminal might be exactly what floats your boat if you're on a business trip or aren't able to walk too far, for instance. But on the other hand, if you're off on a youthful stag and hen night, a cheap and cheerful park and ride option sounds like the very dab. Let's take a closer look at all things parking in Belfast International Airport.
What kind of parking is there at Belfast International Airport?
You won't have to drive round for an eternity looking for a parking space at BFS – certainly not if you pre-book. There are lots of excellent onsite and offsite options and experienced partners like Looking 4 Parking and APH also offer great value for money deals.
Looking 4 Parking can help you grab a great spot by comparing prices in the main car park, park and ride and meet and greet. Meanwhile, APH can find you moneysaving deals on various car parks at BFS and also bundle your parking in with a hotel – if it's more convenient and less stressful for you to stay overnight before your flight, it's seriously worth thinking about.
Main Car Park
If you're a business or short break traveller, the Main Car Park at Belfast International Airport is an inspired choice. Or at the very least, an eminently sensible one. Just 2-3 minutes' walk from the terminal, it features number plate recognition, barrier control, and staff presence 24 hours a day. It's best to pre-book for peace of mind but failing that, you can just turn up on the day and pay your fee at one of the pay stations when you get home.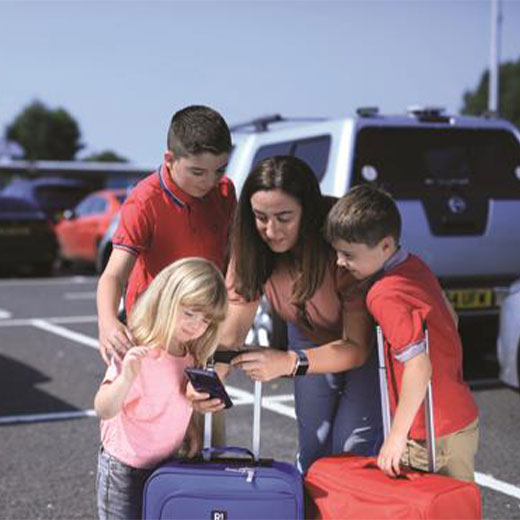 Long Stay
The BFS Long Stay car park is perfect if you're away for more than 4 days. Again, this is just a short walk from the terminal, and you can pre-book and save up to 65% or turn up on the day and square it all up when you get back at one of the many conveniently placed pay stations. The choice is yours.
Short Stay
Are you away for a couple of days or less? If you're nodding your head, then the short stay car park is your best friend. A two minute shuttle bus from the terminal, BFS car parking couldn't be simpler, and this is where most of the airport's disabled parking bays are too.
Park and Fly
Cheap, secure and convenient, Belfast International Airport Park and Fly is a popular car parking option if you're away for around three days. Located beside the emo service station and Marks and Spencer. Shuttle buses run 24/7 and every 15 minutes. Nice and easy.
Getting to and from Belfast International Airport
So how do you get to Belfast? Is it a long and winding road or a short hop? It all depends on where you're starting from obviously, but the good news is that wherever you are, transport links are decent.
From Belfast city, drive north on the M2, exit at Junction 5 then take the A57 for 7 miles to reach BFS. From the north/north west/ north east, take the M2 southbound to junction 5, then follow the A57. From Dublin, take the M1/E1 northbound, then at Newry, take the Bypass, continue on to the A1 and at the M1, follow it west and turn off at Junction 9. Then keep going along the A26 to BFS.
If you're travelling from further afield, use your Satnav and the postcode BT29 4AB.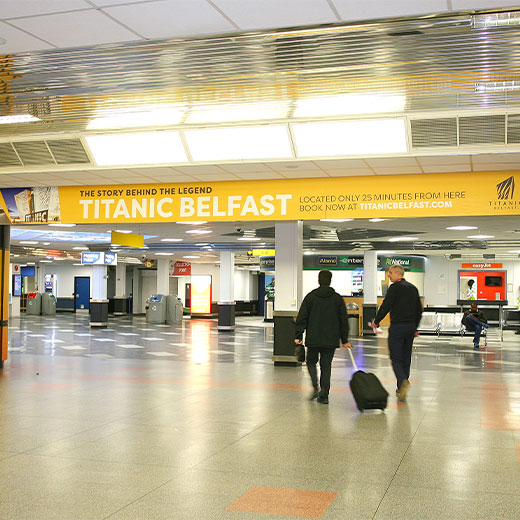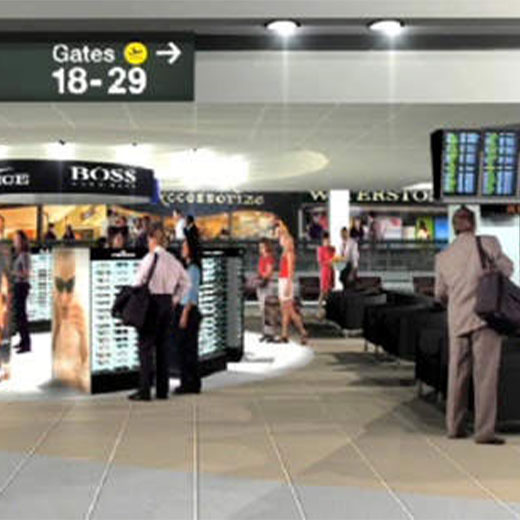 Facilities at Belfast international Airport
The setup in the passenger terminal at BFS is that it's on two floors. The top one is for departures and the bottom is for arrivals. General facilities are good and include cash machines, currency exchange, airport info, baby change areas and a business lounge.
If you need some time away from the hustle and bustle, there's a multi-faith Quiet Room at the arrivals hall where you can take some time out before taking off.
And if shopping's more your bag, you're well taken care of. At Allster, you can pick up unique gifts and crafts from talented local vendors, Discover Belfast showcases the best Northern Irish artisan food and drinks, and at Aelia Duty Free you can bag bargains on some of the best known brands – whether you've got a penchant for champers, fancy spirits, cosmetics or skincare.
Meanwhile, if your belly's rumbling at Belfast, Burger King has all your flame-grilled favourites, Caffe Ritazza serves speciality coffee and delectable cakes, and Sip and Stone conjures up local favourites with a contemporary twist.
Last but not least, Northern Quarter is one of the most popular places to east nowadays at Belfast International Airport. This expansive eatery overlooking the runway has something to suit every type of traveller and a buzzing ambience that sets you up perfectly for adventure. This multi-menu area comprises Northern Quarter Bar, Fed and Watered (with its family-friendly fare) and vibrant Mexican cantina Coco Diablo.
So there you have it – once you've parked up, there's plenty to keep you and your gang happy at BFS. One word of warning though – please be careful that you don't have so much fun, you miss your flight!
Got a Question? Chat with our UK support team
Online chat help is open 08:30am to 17:00 weekdays. Email: [email protected]
FAQs about car hire at Belfast Airport
Most frequently asked questions about hiring a car at Belfast Airport
You can make changes or cancel your free parking reservation at Belfast International Airport for no charge up to 48 hours prior to your scheduled trip. If you make changes or cancel after this time, there will be a fee of £5.
To take advantage of Enjoy Travel's most appealing parking discounts at Belfast Airport, it is recommended to make an online booking well in advance.
Belfast Airport offers different types of parking options for its customers, including short-stay parking, long-stay parking, main-stay parking, and valet parking.
Upon arrival at Belfast Airport, there are signages available to guide you to the various car parks. The car parks are well-marked with signs that display the car park's name, number, and the type of parking facilities offered.
To guarantee the safety and security of parked vehicles, Belfast Airport has implemented various security measures. These measures include the presence of trained security personnel who monitor the car parks using CCTV cameras. The car parks are also adequately illuminated, and emergency phones are readily available to address any concerns.
The short-stay parking lot is located very close to the terminal building, and it usually takes just a few minutes to walk to it. On the other hand, the long-stay parking area is located at a greater distance from the terminal building, so a shuttle bus service is provided to transport passengers between the two. The main-stay parking lot is situated between the short and long-stay parking areas and is closer to the terminal building than the long-stay car park but farther than the short-stay car park. The valet parking service provides passengers with the convenience of dropping off and picking up their vehicles directly at the terminal building.
Customers with electric vehicles at Belfast Airport can make use of the charging facilities provided by the airport. The charging points are located in various car parks and are specifically designated for electric vehicles. Most electric vehicle models are compatible with these charging points, and customers can use them to recharge their vehicles.
It is possible to park your vehicle overnight at Belfast Airport, as the airport provides various parking options to choose from. These include short-stay, long-stay, and main-stay parking areas. The long-stay and main-stay parking areas are both secure and convenient options for overnight parking.
To ensure that you can secure a parking spot and take advantage of lower rates, it is advisable to make your parking reservation in advance, particularly during busy periods or peak seasons.
If you arrive at Belfast Airport's parking lot earlier than the scheduled time, the parking fee may increase, and the amount of the increase will vary depending on how much earlier you arrive. To pay the parking fee, you can use a credit or debit card at the exit barrier.
The cheapest parking option at Belfast Airport is usually the long-stay parking area, particularly if you book your parking spot in advance and comes to around £15 per day.
Short-stay parking at Belfast Airport starts from £4 for a 30-minute stay and can go up to £33 for a full day. Long-stay parking rates begin at £22 for one day, with a lower daily rate charged for additional days. Main-stay parking rates start at £29.50 for one day, and additional days are also charged at a lower daily rate.
Enjoy Travel offers if you park your car for a week at Belfast Airport, short-stay parking rates can cost approximately £140, while long-stay parking rates can range from £50 to £70 per week.
Popular Belfast places, UK airports, train and underground stations